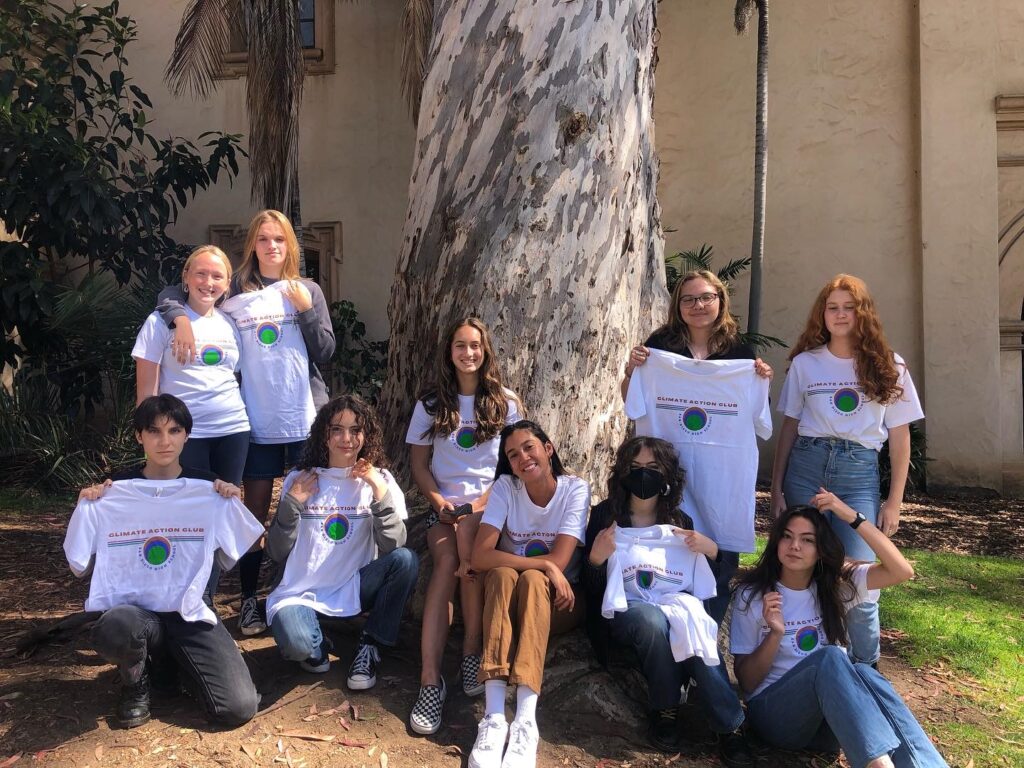 By Evangelina Amato, Director of Advocacy
From the months of February to June 2022, SanDiego350, with the help of the LevelUp program, launched a climate activism club at San Diego High School.  SanDiego350 started the club to educate students about climate change and give them the confidence and resources to make a difference, including paid internships and money to host strikes, school outreach events, and press conferences. During the first weeks, we were unsure if we could accomplish our goals due to low turnout–but that quickly turned around. The first brave students to attend brought their friends and classmates, helping to cultivate a strong sense of belonging and empowerment centered around STEAM and civic issues. What started off as a small after school club ultimately empowered and changed many lives. 
Thanks to the San Diego Foundation's generous support, I and two other high school students were offered paid internships. This work experience helped us build valuable skills g person needs to know about how to make environmental change. Their discussion topics included how to compost and buy sustainably, tips on promoting on social media, and advice on organizing civic demonstrations. Members of the club improved reading and writing skills when they analyzed text and wrote speeches or content, as well as researching and time management skills when creating posters and planning time-sensitive events. Several members of the club lead chants at civic demonstrations or spoke to large audiences, improving their confidence and public speaking skills. 
Students learned about air pollution and environmental health, environmental justice, climate equity solutions, fossil fuel extraction, biodiversity, and community education and engagement through slideshows, speakers, and hands-on experience. In club meetings, members often journaled, did self and group reflections, researched climate and civic engagement topics, made multimedia art for social mlike professional communication and sticking to deadlines. With the money from the LevelUp program, SanDiego350 hired a club instructor, Victoria Abrenica, who led and inspired the students, and rented a room for the club to meet three times a week. The money from the LevelUp program also funded club activities, such as food for school outreach events, poster board and markers for protests, and more. 
During club meetings, speakers from local organizations came into the classroom to share what a younedia posts, and discussed with guest speakers from relevant professions.
One of the biggest takeaways from the SDHS Climate Club, founded by SanDiego350 and the LevelUp program, is that anyone can succeed or find purpose in STEAM subjects. Many club members have even talked about their desires to pursue careers in STEAM fields. I, as a member of the club, want to study environmental justice and solutions to reverse the impacts of climate change. 
Another powerful takeaway is that we have a voice to make a difference, and the community we built together helps embolden us to keep advocating for the better world we want.
Because of this program, I have been given the tools to start my career in climate justice, and the community to support me in accomplishing my dreams–and I am so grateful.