Sample Ideas for Actions & Events
IDEAS FOR ACTIONS & EVENTS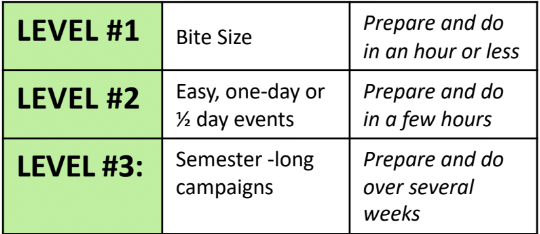 For all levels, plan ahead and have all necessary supplies on hand!
We already have the knowledge, tools, and skills to get there!
Allows you to get people engaged at the drop of a hat.
Plan in Level #1 activities to keep things rolling without a huge commitment.
Pro Tip:
Experiment… Mix it up! Plan actions and events of all levels
Do an easy, collaborative art project with Climate as the topic.
Call, send an email, or write a postcard to local policy-makers during your club meeting. Ask them to take a specific action (ex. "Vote Yes on the Green New Deal" or "Don't take money from fossil fuel companies").
Post on social media about why action on climate crisis matters.
Pledge to tell 5 adults in your life about the climate crisis and why it matters to you. Report back.
Pre-register to vote (if you're of age) and vote for candidates who support climate friendly policies.
Write a blog for your club's website.
Paint a banner as a group project with a pro-climate message.
Watch a video and discuss how you can use in your club. (See Resources section or website for ideas.)
During your lunch hour, go out in pairs to hand out flyers or hang posters.
Level #2: EASY, ONE-DAY EVENTS
Easy, one-day events: take a bit more preparation and planning than Level #1, but relatively easy to pull off.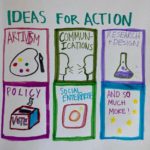 Hold a climate-friendly meal demo.
Organize a rally or strike.
Show a documentary film.
Host a clothing swap.
Table at club fair day.
Host a vegetarian potluck.
Host a picnic.
Meet with your principal to talk about ways to educate other students or make a specific change on campus.
Visit your local council member's office to voice your concerns about climate change.
Host a lunch-time event with music and speakers.
Organize a hike.
Register classmates to vote.
Pledge to adopt an individual lifestyle change.
Attend a beach clean-up as a club or just pick up trash together!
Create art on climate justice & post at your school.
Organize march to call attention to climate crisis.
Hold a zero-waste party.
Speak in classrooms to announce your club or activities.
Level #3: SEMESTER OR YEAR LONG EVENTS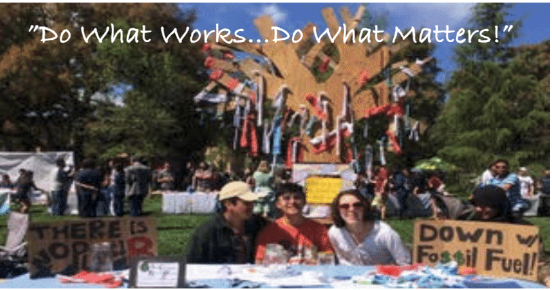 More complex actions & events: May result in big payoffs.Allow 4 to 8 weeks to organize a successful Level #3.
Organize "Fridays for Future" events or climate strikes.
Organize a "sit-in" or "die-in" to expose an organization with unfriendly climate practices.
Host an Earth Day Festival at your school.
Start a Bike or Walk to School Campaign for your school or district.
Help write policies on climate to bring to your school board.
Start an environmental education program at a local elementary school with weekly or monthly meetings.
Organize a conference with speakers and a panel at your school.
Start a campus-wide composting system started.
Start a campus or community garden.
Get local or plant-based foods into school lunches.
Successful actions & events: which are the right fit for your club?
Happy Place:
Activities that are do-able and make a difference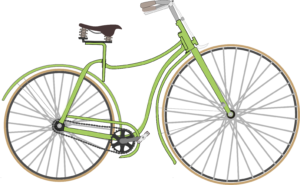 Activity #3A:
Choose Specific Actions & Events
Aim for one or two actions & events each month. Start with a Level #1, add in some Level #2. With a strong team, consider taking on a Level #3.
If your club members are interested in climate change and food systems, you could:
Show "Kiss the Ground" documentary
Hold a vegan baking demonstration
Plan outing to a regenerative local farm
Pro Tip:
Use a theme to organize actions and events for a month or semester.
Think of at least 3 specific actions and events club members would like to organize for the year.
Make your goals SMART: For each goal, fill out the SMART chart tool on the next page.
Once you've gotten your actions and events SMART, plug them into your roadmap where they makes the most sense (see page 29).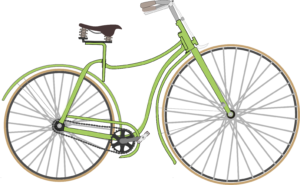 Activity #3B:
Make Your Actions & Events SMART
Give yourself a reality check to ensure your idea:
Is aligned with your club goals
Can be achieved by your club
Will make a difference
Pro Tip:
Use the SMART Chart, for more successful events and actions!
Initial Goal Idea

Example: Hold a letter writing campaign

Specific
What do you want to achieve?
Look at numbers:
How many letters?
How many people to address them?
How/when will you deliver them?Who will do them?

Measurable
Is your goal measurable?
How will you know you've met your goal?

Achievable
Is your club capable of achieving the goal with the resources you have on hand?

Relevant
Which high level goals does this fulfill?

Timely
Can you meet the due date?

Examples
– Hold a letter writing campaign asking the school district divest from fossil fuels.
– Include at least ten students, of which two are new to our club.
– Deliver at least 25 letters to school board.
– Write the letters during the second of January meeting, and deliver during third meeting in person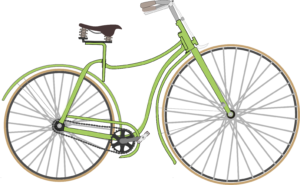 Activity #3C:
Make Your Actions & Events SMART
Month

Action

Topic/Goal

Find Your People
• Table at Club Fair

Kick-Off! Event
• Documentary

Create Awareness:
Focus on Fun!

Letter writing campaign during club meeting

Documentary
• Organize a Training

Event: Put Training into Action

Build Skills and Outreach

Climate Ribbon Project
• Presentations

Attend Youth Summit
• Organize Earth Fair
• Organize Climate Strike

Education, Build Skills, Take Action, Have Fun!

Show Documentary
• Elect club leaders for
next year

Have Fun/Educate
Build club

Team "Retreat": debrief and have fun together

Meet to get head start
on upcoming year
It's important to plan in social time for socializing club activities. Even when tackling difficult topics, it's especially important to include a balance: CommunityBuilding, Meaningful Action, and Fun. Often, a single event will fulfill all three categories
1. Social: Going for Fun!
Sharing a meal or snack
Going out to a movie (on topic or not)
Making something together
Hosting a clothing exchange
Holding a cooking demonstration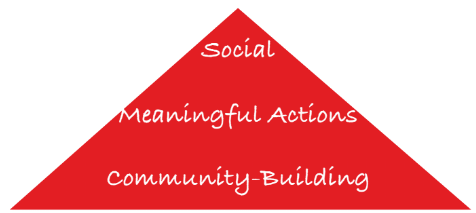 Moving into meaningful action allows your club to make a serious impact. Don't confuse IMPORTANT with TIME-CONSUMING… you can plan an important action that is easy and quick!
Organizing a Walk-Out at your school
Joining with another club or non-profit for a one-day direct action campaign
Speaking in front of your school board or City Council members
Voting (when you turn 18, if you are eligible)
3. Community-Building and Outreach
When you build community, you also build up your team and learn how to work together: critical for a strong club. Being intentional about community building is also a way to reach new members.
Community-Building Events might look like:
Beach clean-up
Collaborative, team-building exercises
Fairs and public education events
Documentary showings
Art projects on the climate crisis
Appreciations: be sure to give personal thanks to your team. At meetings, publicly recognize one or two people for their efforts (example: "Thanks to Roger for bringing food!")
Meet: Aaron Masipik, Olympian High School, Chula Vista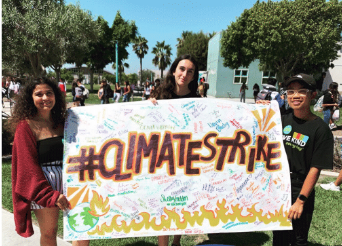 HOT TIP:
"Be consistent with meetings along with other club activities, as this is important for maintaining member attendance."
"Understand that while the task you may be taking
on is daunting, don't be afraid to ask for help or advice, whether it be from your members, teachers, or other mentors.."
Aaron, president of the 'Eco Club' at Olympian High School, organized their climate strike in 2019.
Activities: Planning environmental awareness events, educating members on various environmental issues and solutions, and motivating other teens to take action.
Highlights: Creating multiple PSAs on different environmental issues (i.e. palm oil) as well as having a school-wide event on the day of the 3rd Global Climate Strike
Consider school holidays, finals, AP testing and activities that affect your planning.