Empowering youth to become climate leaders working together for an equitable, sustainable, and resilient future.
For Youth & By Youth
Building Community & Inspiring Action
Find Your People! Find Your Passion! Find Your Power!
Youth4Climate is a program of SanDiego350 (https://sandiego350.org/), an organization that is building a movement to prevent the worst impacts of climate change and climate injustice through education and outreach, public policy advocacy, and mobilizing people to take action.  
Y4C was originally formed by SanDiego350's Youth Engagement Team (https://sandiego350.org/youth-engagement-team/).   Youth are welcome to get involved with other SD350 volunteer teams and campaigns as well.  For more information, see https://sandiego350.org/campaigns/.
Supporting youth-led campaigns, including Youth v. Oil and a coalition of high school eco-clubs.
Planning direct actions, like rallies and strikes.
Delivering programming to develop the leadership and skills of youth leaders, including an annual Youth Climate Action Summit, summer programs, and after school programs.
Working with local organizations to engage teachers into action for climate.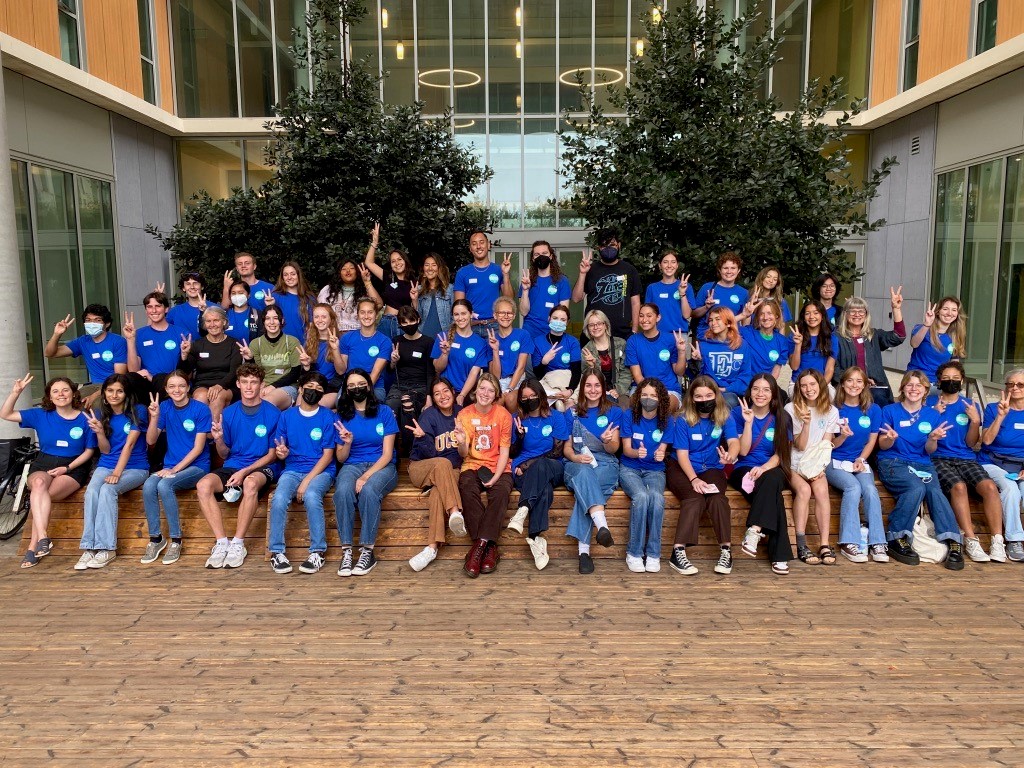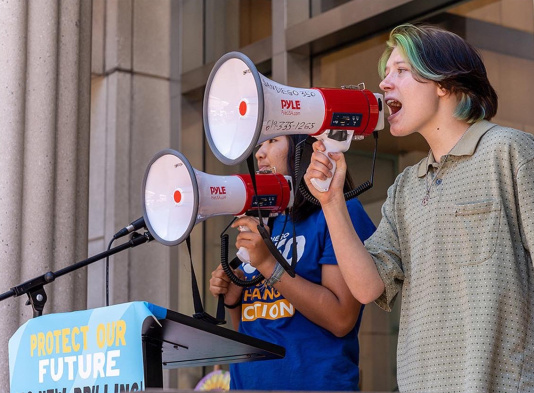 Develop educational programs to empower youth climate leaders.
Hold interactive events, such as art builds, socials, and voter registration parties.
Use email and social media to communicate with and engage Y4C members.  Also, many of our planning and support meetings are done through Zoom.
Create petitions and collect petition signatures.
Meet with elected officials and speak at public meetings.
Organize youth to take action.
We organized and supported youth to lead climate strikes in Sept 2019, Sept 2021, and Sept 2022 – thousands of San Diego students participated and demanded climate action, with support from the San Diego Unified School Board.
In 2022, we held 2 in-person summits. Our Spring Summit drew in 36 participants, and our Fall Summit attracted 58 participants.
We've trained hundreds of youth climate leaders on climate science, communication, civic engagement, and activism via our Youth Climate Action Summit, Summer Camp, and other programs.
Our Youth v. Oil campaign successfully got these entities to pass resolutions calling on Gov. Newsom to end oil drilling in California and protect frontline communities:

San Diego City Council, San Diego Unified School Board, Sweetwater Unified School Board, San Diego County Board of Education, and UC Berkeley.
2022 - 2023 INTERNS & COORDINATORS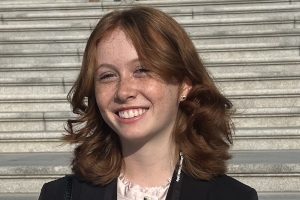 Abby Deckert
Youth v. Oil Intern
Pronouns: she/her
Abby leads the Youth vs. Oil campaign, working to stop oil fracking in California through rallying, advocacy, and meeting with local elected officials. Abby is currently a junior at Santana High School where she runs the Climate Action Club aiming to educate their community on the climate crisis. Abby co-led the 2023 Youth4Climate Earth Day Campaign, helping high schools across San Diego County to organize impactful Earth Day events. She is very passionate about connecting students through activism and believes it is vital that as youth we fight for our future against the climate crisis.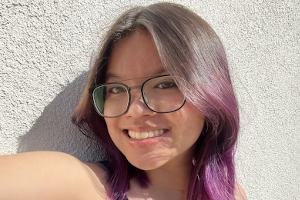 Sydney Chan
Youth4Climate Intern
Pronouns: she/they
Sydney is the Youth4Climate intern and a senior at Canyon Crest Academy. As a young person involved in the movement, they aim to urge their peers to finding their voices and taking action. During her time as the Youth4Climate intern, she'll onboard members and plan events & actions. By channeling community power into organization, they hope to create an impact within climate activism and its further intersections.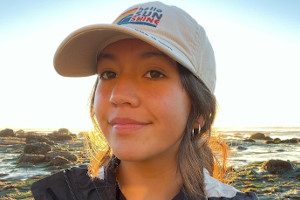 Abby Costello
Chula Vista Community Liaison Intern
Pronouns: she/her
Abby is a current junior at Hilltop High School. She has worked with SD350 as a public speaker, planner, and social media representative. Living in Chula Vista her whole life, Abby believes that the community deserves more education and representation in the climate justice movement. Through this internship, Abby hopes to extend awareness and opportunities for climate activism to her community, and to serve as a voice and representative for Chula Vista youth.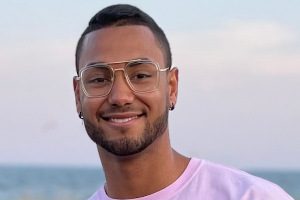 Xavier Holmes
Youth4Climate Program Coordinator
Pronouns: they/them
Xavier leads SD350's Youth4Climate Program to help develop the future leaders of the climate crisis. They are passionate about building efficacy and meaningful connections within marginalized communities. Additionally, they have many years of experience coordinating volunteers to help serve the d/Deaf and Disabled communities in Pittsburgh. As a young climate activist at the University of Pittsburgh, they worked with grassroots organizations to pressure the university to divest from fossil fuels, and conducted research to highlight the consequences of the school's environmentally racist practices within Black communities. They are excited to support SD350's mission to foster a safe and inclusive environment for youth from all walks of life, ultimately making the effort to save our planet more accessible for everyone.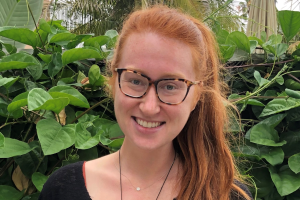 Lexi Rueff
Youth4Climate Volunteer Coordinator
Pronouns: she/her
Lexi works to understand the interests and skills of Y4C volunteers and get them engaged in the work.  Lexi has been an enthusiastic part of Youth4Climate since 2020. Lexi graduated from Indiana University in 2017, where she double majored in Spanish and Comparative Literature and minored in Anthropology. She is currently in a Sustainability Leadership masters program at Claremont Lincoln University. She is passionate about the ocean and plastic pollution and is proud to be part of the youth-led climate movement!
ALUMNI INTERNS & COORDINATORS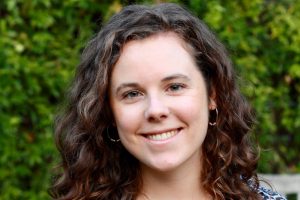 Megan Phelps
Youth4Climate Program Coordinator
Megan developed and lead SD350's Youth4Climate Program for youth climate leaders through June, 2023. In spring of 2021, she graduated with high honors as a Regents Scholar from UC Davis with a B.S. in Environmental Science and Management. At UC Davis, she founded and led a climate action club, and she continues to pressure the administration to end its reliance on fossil fuels for energy. Megan also works at the Climate Psychology and Action Lab at UC San Diego, where she researches how to inspire collective action for climate justice.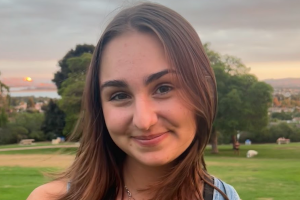 Maddie Chesebro
Youth v. Oil Intern
Maddie coordinated the Youth v. Oil campaign, a part of Youth4Climate, which works with elected officials to pass legislation that encourages a just transition from oil reliance. She was a senior at Granite Hills High School, and is hoping to major in Environmental Policy/Sociology in college. Maddie ran her school's Environmental and Social Justice Club and co-led the 2022 Y4C Summit, along with her social media managing work. She is extremely passionate about making every voice heard and uplifted, and is excited for her future in climate related work.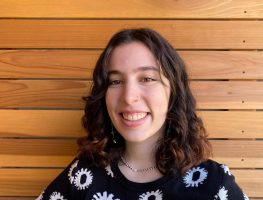 Alessandra "Alli" Dangio'
College Intern
Alli worked to build and support the High School Climate Action Education Project. She helped create lesson plans, educational activities and action opportunities for teachers and students in high schools located in environmental justice communities. She was a first-year at San Diego Miramar College, where she has been studying Anthropology and Environmental Policy and Economics. She views climate change as the biggest threat to global justice and equity, and hopes to combat its negative effects through uplifting and centering the voices of historically marginalized people, who for too long have been on the frontline of environmental issues.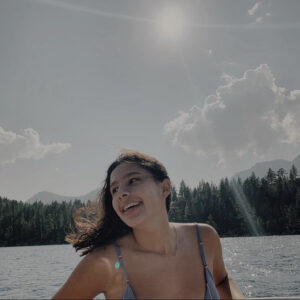 Evalyse Estradaflores
Communications Intern
Evalyse was a high school senior and Eco-Club president at Otay Ranch High School. Evalyse worked to develop an engaging and inspiring communications plan to inform, inspire, and engage the Youth4Climate community. Through her love of public speaking and content creating Evalyse focused on expanding Youth4Climate's audiences and captivating their enthusiasm for climate action! She hoped to empower her generation to take action in protecting the planet!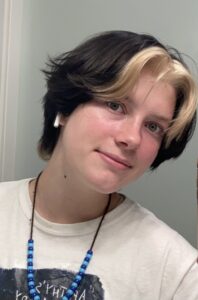 Theo Martien
Eco Club Coalition Intern
Theo has been working to develop and expand SD350's coalition of environmental and social justice oriented clubs. As an intern they were a junior at Mt. Everest Academy, where he runs a social justice club. As an intern, Theo hoped to cultivate a community of climate leaders and fight for climate justice.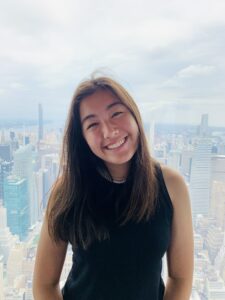 Keala Minna-Choe
Youth v. Oil Intern
Keala has been working to phase out fossil fuels and advocate for a just transition to renewable energy. As a youth, she believes that helping fight our current climate crisis is the best way to help preserve her future. As the Youth v. Oil Intern, she worked to design resolutions for students to call upon the CA Governor to stop issuing new oil drilling permits and create a comprehensive plan to phase current oil sites out. Keala has been a student at Canyon Crest Academy and hoped to learn more about how she can make the world a better place.
"Y4C is a community with passionate activists... where we can come together and create change along with having fun. This is a place where youth voices are valid and supported across generations."
Natalia Armenta, Spring 2021 Fellow
High Tech High Media Arts
"I have become more confident in sharing my ideas and communicating with others--that is what Y4C helped me with the most."
Bella Lastomirsky, Youth Volunteer
Scripps Ranch High School
"Y4C has helped me find my power because of the leadership opportunities provided--I have led teams and been part of them, which have all really helped me understand just how powerful my actions can be."
Alexa Castruita, Spring 2021 Fellow
Hilltop High School
"Y4C is a community space where youth can be empowered to grow as leaders, support one another as activists, and advocate for equitable climate justice together!"
Bella Santos, Spring 2021 Fellow
Westview High School
"Y4C is an incredibly open community that makes me feel at home! Being surrounded by other young activists has empowered me so so much!!"
Theo Martien, Youth Volunteer
Mount Everest Academy
"Each and every person I have met through Y4C has helped me learn about who I am and why I matter in the climate movement. They support me in all projects and empower me to reach out to others."
Kaiolena Tacazon, Summer 2021 Intern
Guajome Park Academy