Our mission is to empower youth to become climate leaders working together for an equitable, sustainable, and resilient future.
featured programs and events
Join Youth v. Oil—a campaign student-led working to end oil drilling in California, and justly transition to clean energy!.
Meetings are every Monday from 6-7 PM. Fill out the interest form below. Contact Abby (abby@youth4climate350.org) with any questions!
Join the Youth v. Oil Media Team, led by Ryan! Meetings are every Tuesday from 8-9 PM. Contact Ryan (ryanberberet@gmail.com) to get involved!
Join the Youth v. Oil Legislative Team, led by Sienna! Meetings are every Monday from 7:30-8:30 PM. Contact Sienna (siennagrantham@gmail.com) to get involved!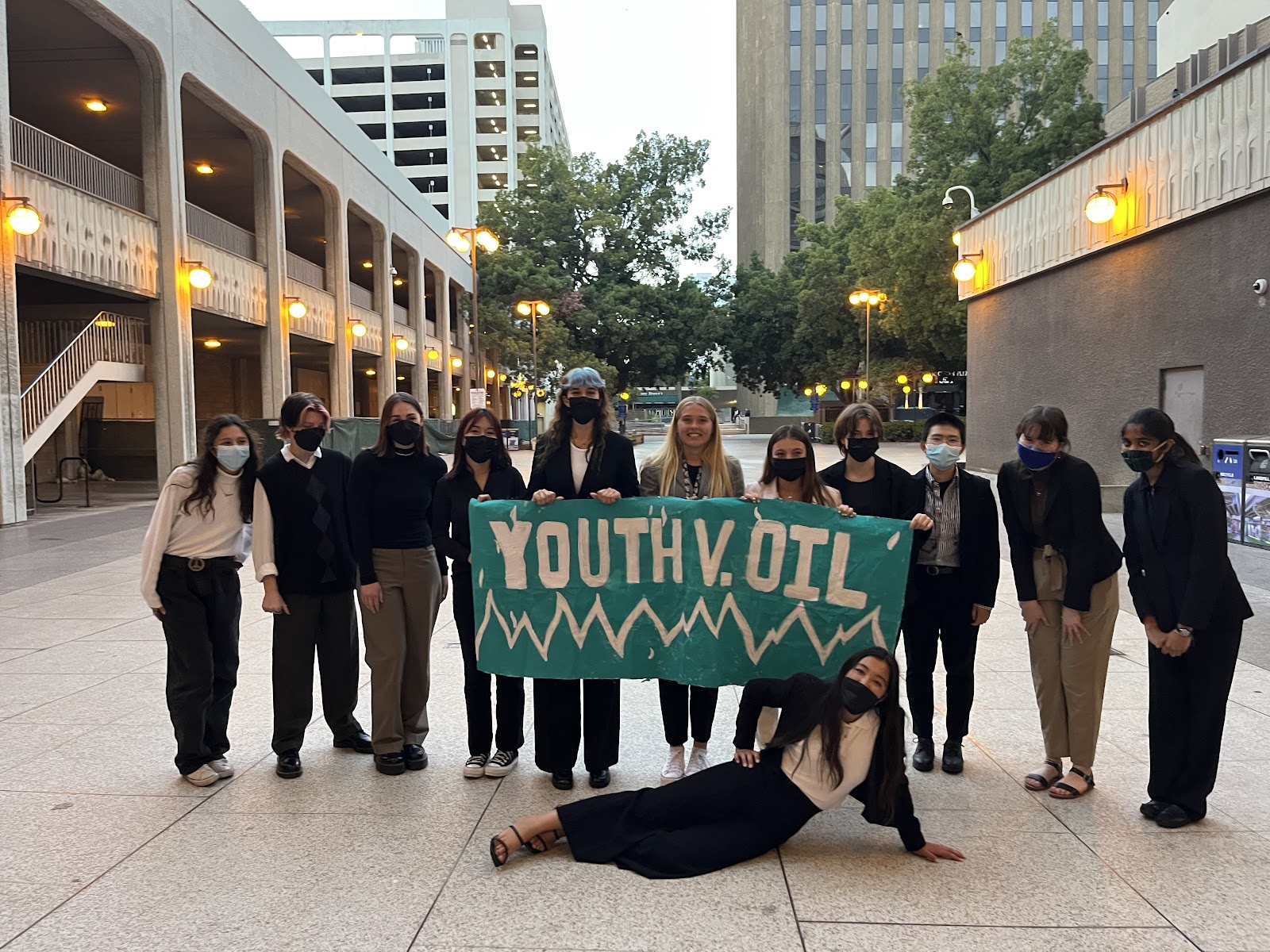 Join our Eco-Club Coalition
Are you involved with an eco club at your high school or college, or interested in starting one? Join Youth4Climate's Eco Club Coalition to connect and collaborate with a network of clubs across San Diego!
We are empowering, collaborative, and safe space for eco & social justice clubs in San Diego to come together and support one another with projects, campaigns, initiatives, and ideas — from starting clubs to carrying out current plans and future goals.
Meetings are monthly, TBD. Contact the ECC's lead, Sydney (sydney@youth4climate350.org) with any questions and fill out the interest form below to join!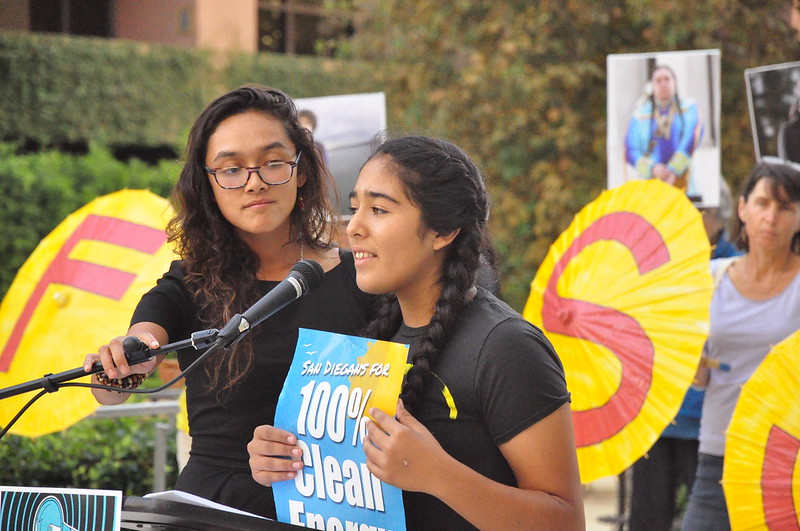 Fall 2023 Global Youth Climate Strikes
Since 2021, SanDiego350's Youth4Climate has empowered thousands of youth throughout San Diego to mobilize for climate justice as part of the September Global Day of Climate Action. In 2023, we supported 17 school strikes. School strikes help students inspire more of their peers to act for the climate because they're close-to-home. They also build student organizers' skills and sense of agency as they step into leadership roles.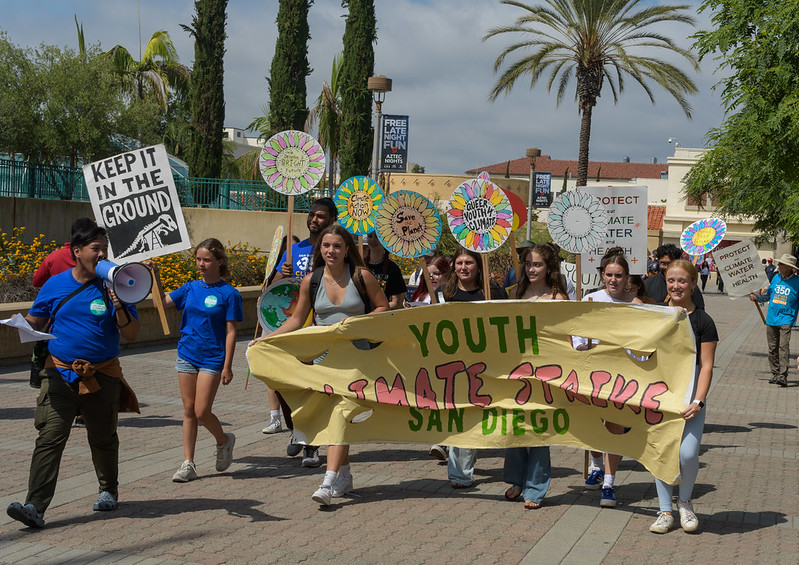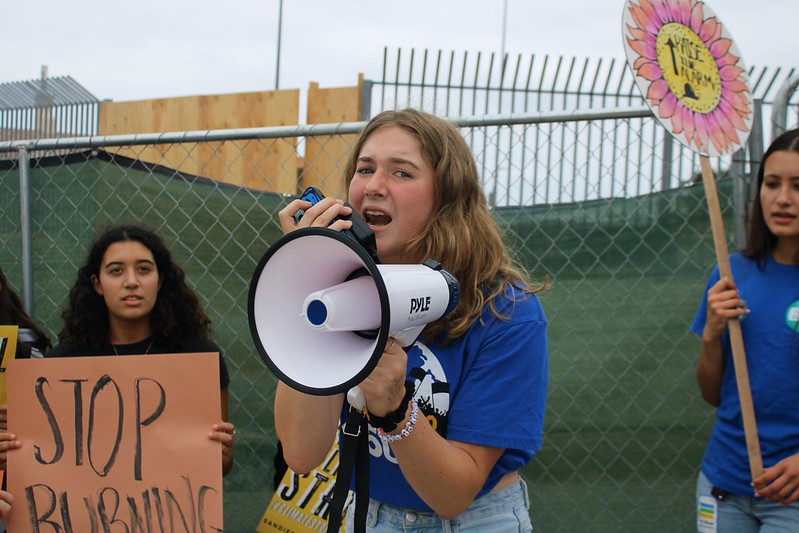 Urge the SDCCD Board to Support Phasing Out Oil Extraction in California
Students from Miramar, Mesa, and City College have worked together to get their respective colleges to pass the End Oil Extraction resolution first championed by Youth v. Oil, a campaign dedicated to halting oil drilling. We are now asking the San Diego Community College District to pass a resolution calling upon CA Governor Newsom to:
Stop issuing new oil drilling permits and begin phasing out existing oil wells.
Create 3,200 ft safety zones between oil extraction sites and our homes, schools, and workplaces.
Develop and launch a concrete plan to end oil drilling in California.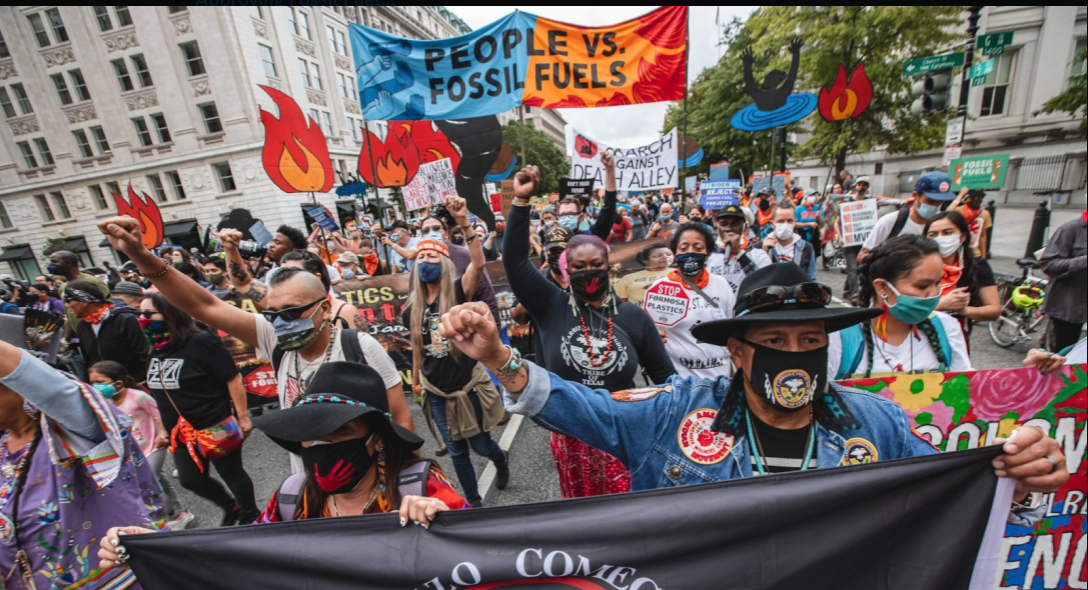 NEW Y4C Program in City Heights:
Gain volunteering experience through Youth Making Green based in City Heights! 
Please complete the form to get involved 🙂 

On July 29 (2023) SanDiego350 had a house party in Carmel Valley to celebrate youth climate leaders and raise funds to support our Youth4Climate program. The house party featurde inspiring youth speakers, food, music and other activities.
We exceeded our fundraising goal of $5,000 to support Youth4Climate's internships, staffing, and programs!!
Thank you to our wonderful hosts: Mary Yang, Nan Renner, David & Peg Engel, Cynthia Harris and Futures Unbound Foundation.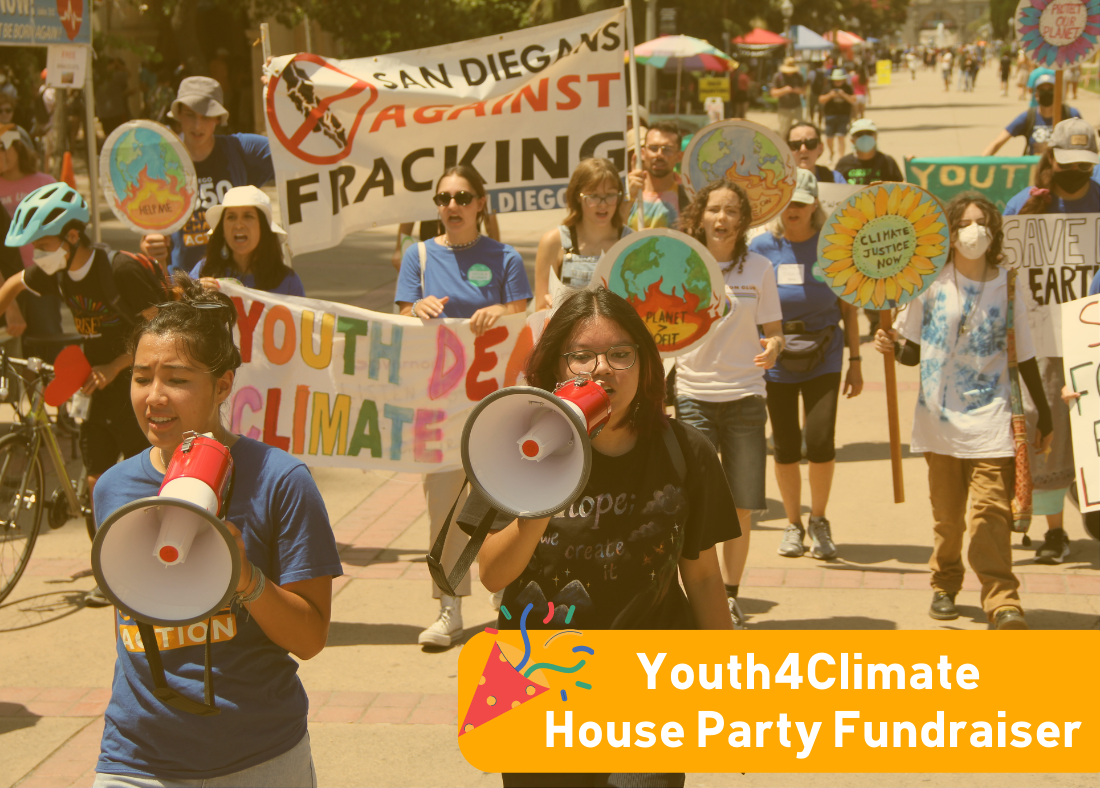 Our resolution urging the Board of Education to ELECTRIFIY THE SAN DIEGO UNIFIED SCHOOL DISTRICT passed unanimously on April 25th! We had six students speakers and many advocates at both the rally beforehand and the meeting. Check out our news coverage and petition!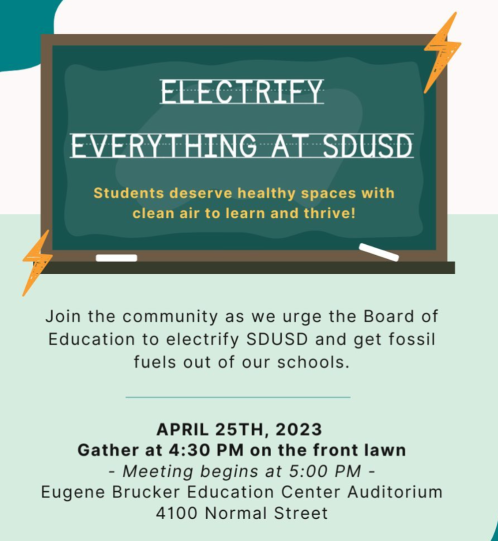 "It took me a long time to realize how effective one-on-one meetings are for increasing engagement and membership. Now I meet with people one-on-one and listen to their interests or answer their questions. This has allowed me to ask them to step into leadership roles based on their own interests."
Megan Phelps
MEA High School, San Diego
"Try different things, be open to new experiences, push yourself, and don't let fear of the unknown stop you. If you ever doubt you're capable, remember why you embarked on this journey in the first place."
Aisha Wallace-Palomares
Del Lago Academy, Escondido, CA Class of 2019
"Be consistent with meetings along with other club activities, as this is important for maintaining member attendance."
Aaron Masipik
Olympian High School, Chula Vista
"Don't try to do it all on your own! Working with others spreads your cause, helps you network, and makes things easier for yourself."
Annie Do
Serra High School, San Diego, CA Class of 2022
"Opt for collective action when asked on how to address the climate crisis. Organizing allows you to collectively reach more people and spread an inherent culture of individual action alongside it."
Chris Kracha Mission
Bay High School, San Diego, CA
"When taking individual action, strive for progress and not perfection. Whether you are beginning your eco-friendly journey with reusable produce bags or becoming vegetarian, you should be proud of your initiative. But don't be afraid to keep growing from there!"
Katelynn Sutton
High Tech High School, San Diego
"Stay on message! Resist pushback that seeks to distract from your passion and goals."
Elea Castiglione
San Diego High School, San Diego, CA
"To empower your team, go for inclusiveness. Everyone should be and can be a part of the movement. So appeal to all, not just certain groups of people. Whether they know nothing about the environment or everything under the sun, anyone can make a change."
Meisha Myers
Helix High School, La Mesa, CA
"Let go of the need to be perfect. There are a thousand little things you can criticize yourself for doing but it is unfair to put all the weight of the planet on yourself.~"
Emma Valenzuela
La Jolla High School, La Jolla, CA
"Reach out to your fellow activists, both youth and adults, who will support you and your vision. Tell them your vision and how their speaking it or supporting it connects. Consistent communication and visible dedication is key.~"
Leana Cortez
Rancho Buena Vista High School, Vista
Youth4Climate is a program of SanDiego350.


Support us and empower youth to take climate action!