Our mission is to empower youth to become climate leaders working together for an equitable, sustainable, and resilient future.
featured programs and events
Youth Program Coordinator (Full Time)
The Youth Program Coordinator will activate and empower high school and college aged youth climate leaders and advancing just and equitable solutions to the climate crisis. They will hire and manage program interns, coordinate volunteers, and support youth-led organizing, campaigning and events.

Our resolution urging the Board of Education to ELECTRIFIY THE SAN DIEGO UNIFIED SCHOOL DISTRICT passed unanimously on April 25th! We had six students speakers and many advocates at both the rally beforehand and the meeting. Check out our news coverage and petition!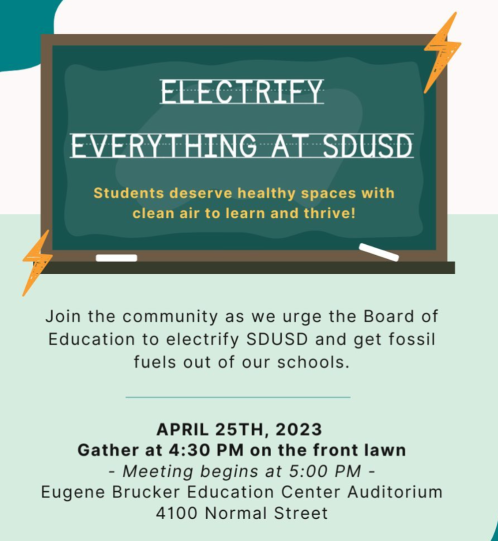 The Big Oil Resistance Tour's stop in San Diego on may 6 was a hit, with more than a hundred concerned community members and seasoned climate activists alike learning more about the adverse effects of oil drilling and fossil fuel dependency in our area, and the need to hold our government accountable regarding this issue. The event addressed the negative implications of oil drilling and its effects on frontline communities. It included a panel of climate activists working to fight back against Big Oil, and they discussed ways to get involved, such as attending Last Chance Alliance (LCA) monthly calls and getting involved with SanDiego350 to work against unjust oil drilling. See the link below to register for the next Big Oil Resistance Organizing Call (May 25 @ 5:30pm).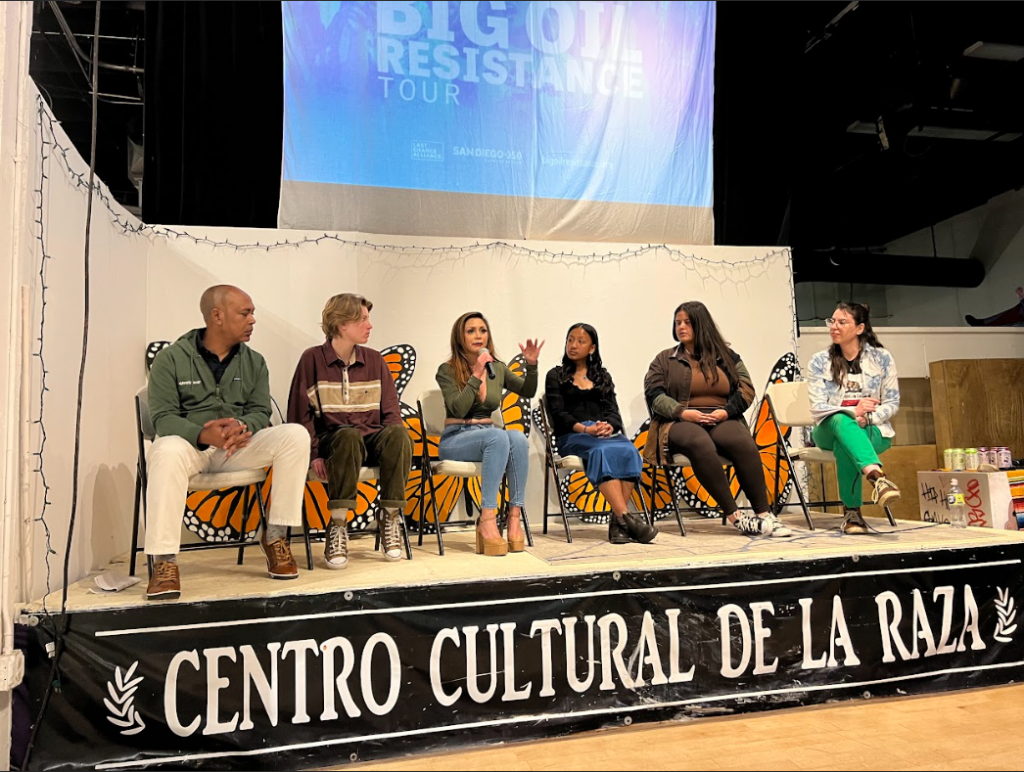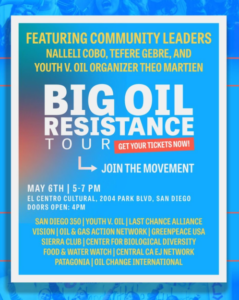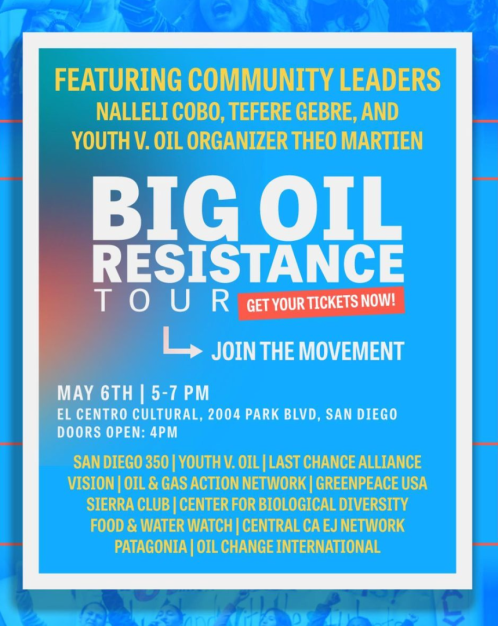 WHEN: Saturday, May 20th, from 10-11:30 AM
WHERE: Kate Sessions Park
Join us to discuss sustaining your climate action, making connections, finding your place in the movement, and taking time to recharge! We'll be meeting at Kate Sessions Park — find us by heading towards the bathrooms. Register using the link below!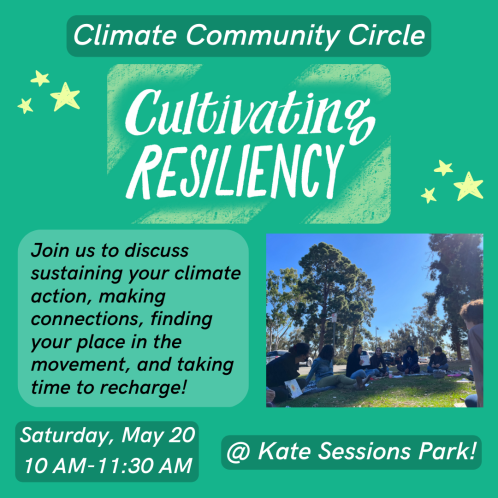 Spring 2023 Earth Day Campaign:
This Spring of 2023, Youth4Climate's Eco Club Coalition supported students in organizing 16 dynamic, coordinated Earth Day events at high schools in San Diego County. Student attendees learned about climate justice and action, and how to take concrete action such as trying low-carbon foods, participating in rallies, contacting elected officials, and composting.
Check out the link below for pictures of the events and resources you can use to take action.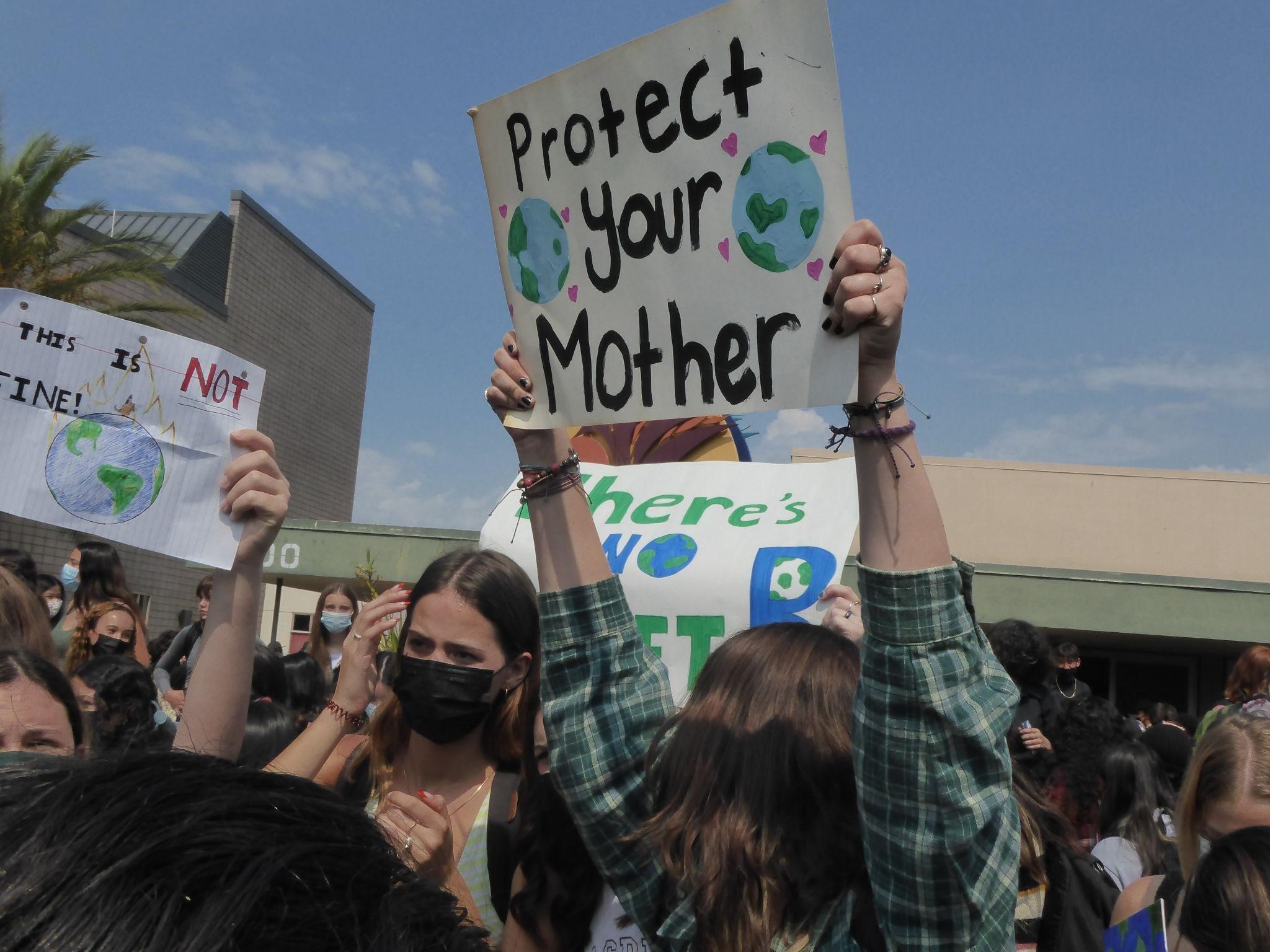 Join Youth v. Oil—a campaign student-led working to end oil drilling in California, and justly transition to clean energy!
Meetings are every Monday from 6-7 PM.
Fill out the interest form below. Contact Maddie (maddie@youth4climate.org) with any questions!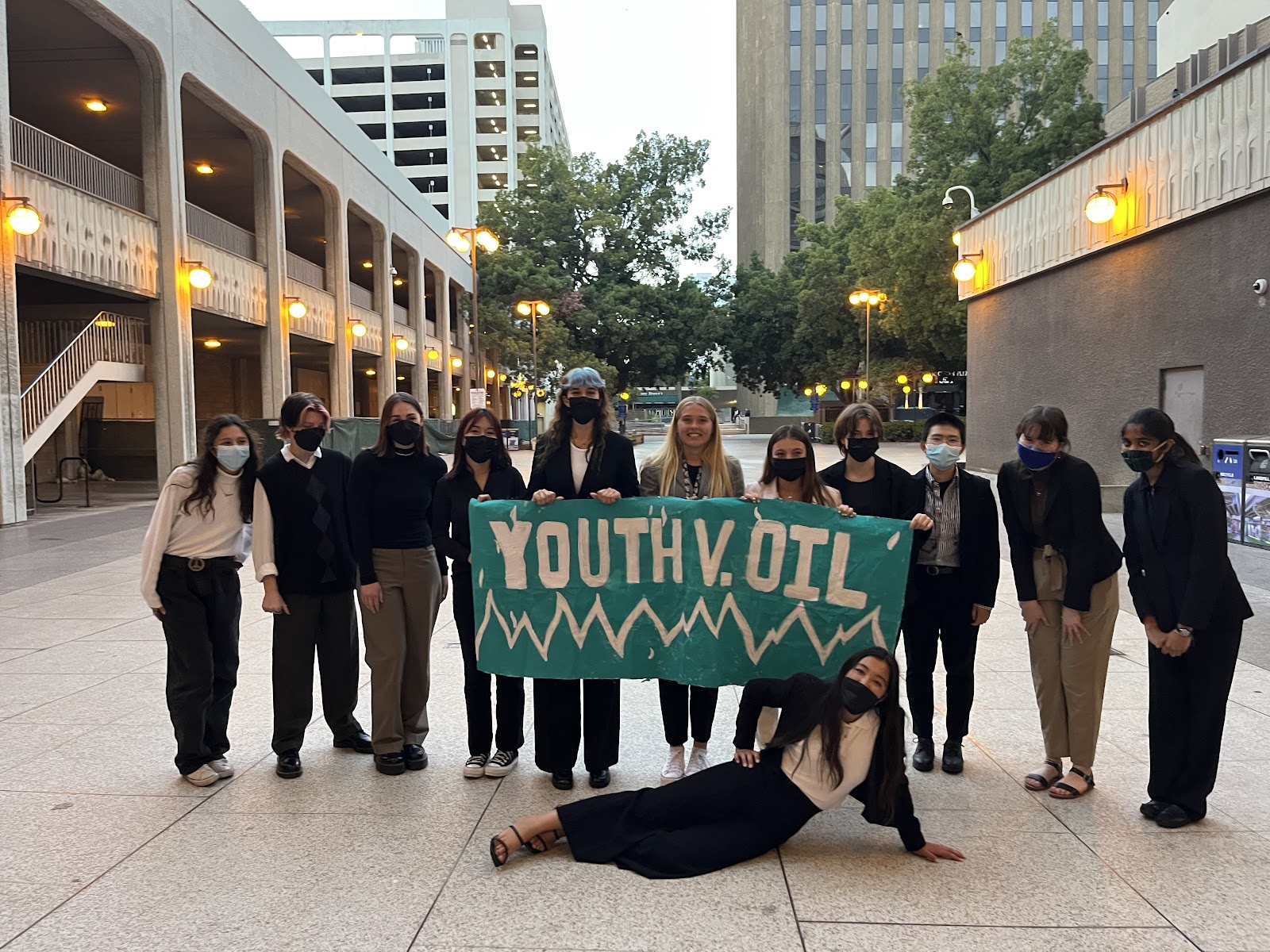 Join our Eco-Club Coalition
The Eco-Club Coalition (ECC) welcomes high school environmental and social justice clubs from across the country. The ECC is designed to help you establish a new eco-club or take your existing club to the next level. We provide you with resources and mentorship.
Meetings are every 4th Sunday of the month from 4 – 5 pm via Zoom. Fill out the 'join us' form below to receive the meeting's Zoom link.
Email sydney@youth4climate350.org for more info.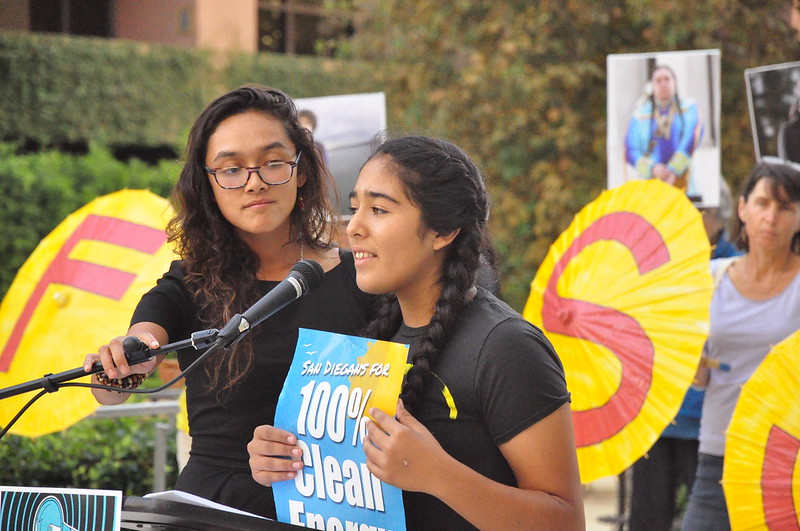 Fall 2022 Youth4Climate Summit:
Intersectional Changemakers
On October 9th, 2022, SanDiego350's Youth4Climate hosted its fifth youth climate summit. We inspired and energized over 55 youth and adult supporters into action for climate! We could not have done it without …
Our incredible partners:
UC San Diego Climate Champions

 for co-hosting this event and providing scholarships

Green New Deal at UCSD

 for support and helping us secure the Climate Action Lab
And our generous supporters:
Birch Aquarium

 for free aquarium tickets and other giveaway items

UC San Diego CREATE

Earthways Foundation for their generous grant
AKB Marine Inc. for the t-shirts
Ocean Beach People's Organic Food Co-op for the delicious and healthy snacks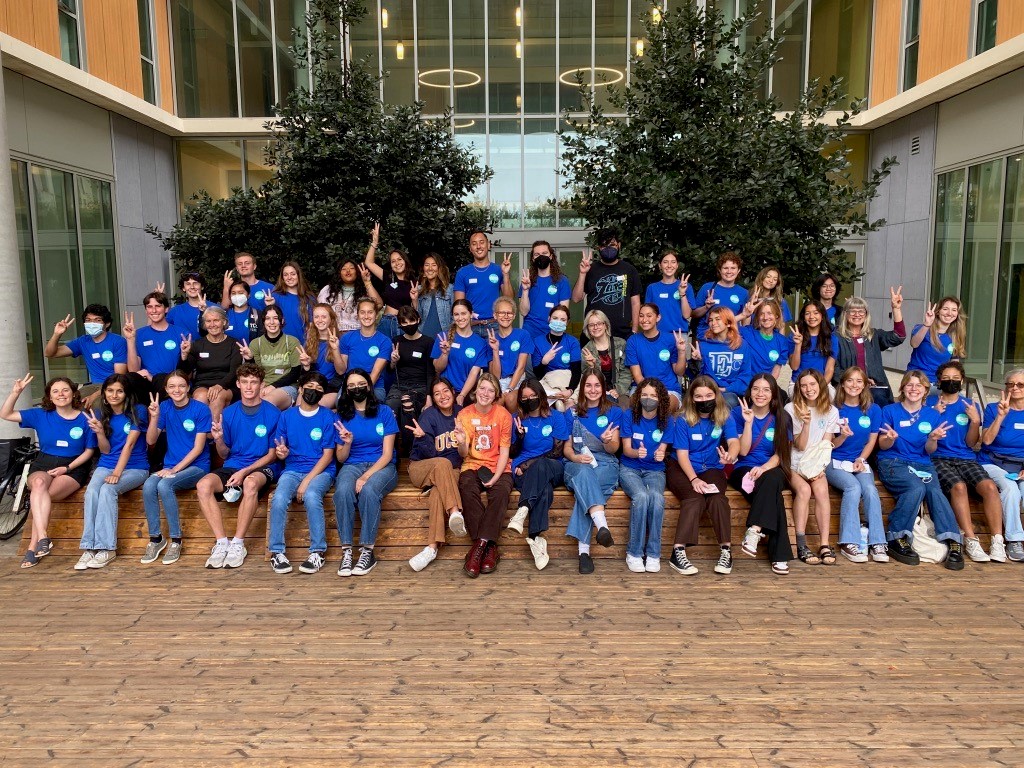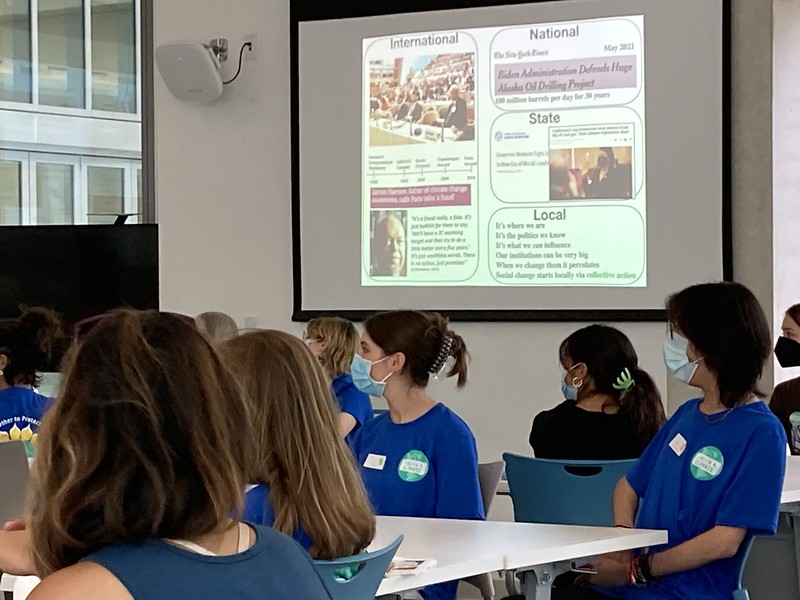 Fall 2022 Youth Climate Strikes
In honor of Fridays For Future's Global Day of Climate Action, on September 23rd youth and allies rallied across San Diego declaring "we do not want to inherit a damaged world!" On this symbolic day of global solidarity, activists worldwide rallied in their respective cities to express the urgency of addressing our current climate crisis by having international school walkouts, protests, and strikes. To learn more about the September 23rd Global Day of Climate Action click here.
Youth4Climate350 organized San Diego's Youth Climate Strikes this year, and we had had so much success! Here are just a few milestones:
— Over 3,000 people from 20 schools throughout San Diego participated in this year's Climate Strikes! To learn more about the participating schools click here.
— For folks who could not participate in a school strike, there were two rallies held in Downtown, Chula Vista and Downtown, San Diego.
Read and watch about the Youth Climate Strikes on the news:
San Diego Union Tribune article of Downtown, San Diego
KPBS News Coverage of Chula Vista Strike
— We collected over 600 signatures to demand that President Biden Declare a Climate Emergency in order to unlock executive powers that will help end the fossil fuel era. Please sign the petition if you have not already.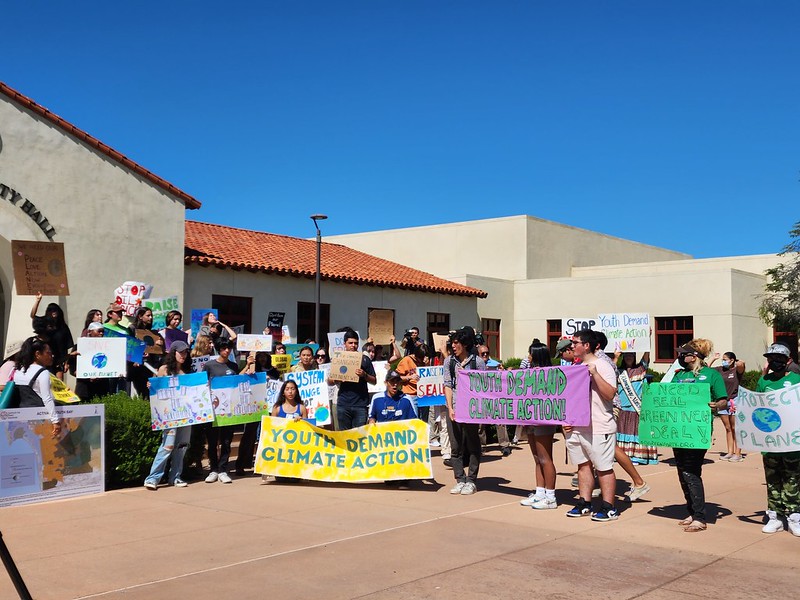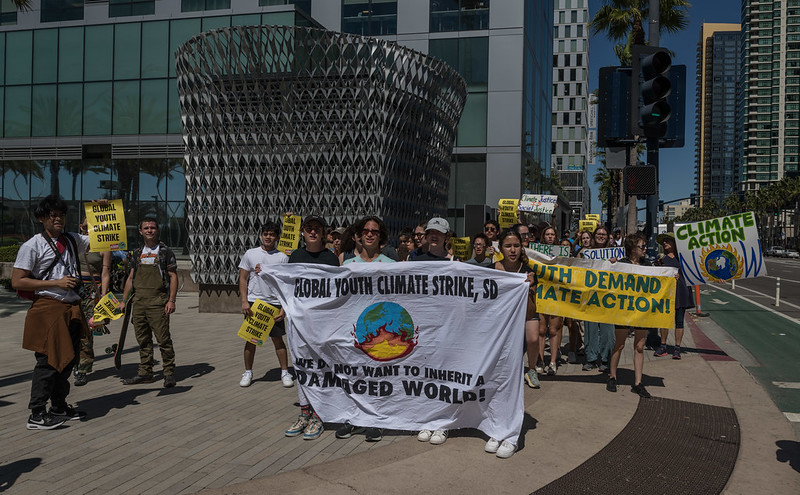 4th Annual Youth Climate Action Summit
On June 11 Youth4Climate held its 4th annual Summit. Throughout the day, attendees participated in workshops that taught them about how to make public comments, do artivism, empower our friends to take action, and create effective messaging through social media. Youth also heard from inspiring speakers, who talked about the climate crisis and resilience, which you can watch on our instagram @youth4climate.350 .
Towards the end of the summit, participants got the chance to learn more about the different teams and campaigns at Youth4Climate and our current projects. Youth wrapped up the day building their climate resilience! On behalf of Youth4Climate, we want to thank all of those who attended and those who helped plan this incredible event, we couldn't have done it without you!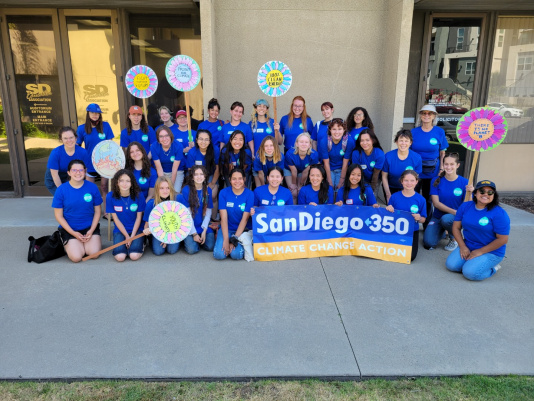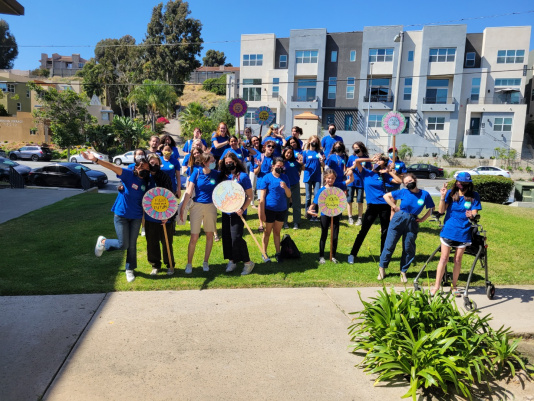 * * * Big Win for Youth v. Oil * * * (Recap)
When: Apr 21st 4:00 PM – 5:00 PM
Where: City Hall
This past week, the San Diego City Council Environment Committee voted unanimously to support the Youth v. Oil resolution. The vote followed our delivery of over 1,200 petition signatures to Councilmembers and an interview on KPBS' Midday Edition.
The petition asks the City of San Diego to sign a resolution calling upon Governor Newsom to:
• Stop issuing new oil drilling permits and begin phasing out existing oil wells.
• Create 2,500 ft safety zones between oil extraction sites and our homes, schools, and workplaces.
• Develop and launch a concrete plan to end oil drilling in California.
Here's what Councilmember Marni von Wilpert, Vice Chair of the Environment Committee, said about our efforts:
"It gives me so much hope to see the next generation fighting for our future, fighting to end our dependence on fossil fuels, and fighting to bring the very real dangers of climate change to the forefront."
Our resolution was just passed 8-0 by the San Diego City Council, and they will publicly join the growing call for Governor Newsom to phase out oil drilling in California!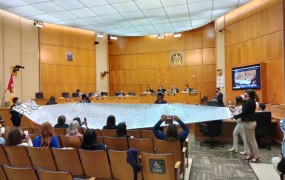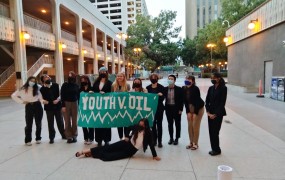 "#People Not Profit" Climate Strike (Recap)
The San Diego Climate Reality YEA (Youth Environmental Action) Pod hosted a "#People Not Profit" Climate Strike on March 25 in front of the San Diego County Administration Building.  Members of Y4C participated.  This event was part of a Global Climate Strike organized by Fridays for Future.  The participants made the following DEMANDS to the state of California:
STOP Approving New Fossil Fuel Permits
DROP All Existing Fossil Fuel Production through a Fair and Just Transition

ROLL Out 3,200 foot Health & Safety setbacks between Neighborhoods and New and Existing Oil and Gas Wells 
Check out more pictures of the event: https://drive.google.com/drive/folders/1He9rGjc4KAJmcR1eZw7K9V49NtqAZHLz
Local press links:
KPBS Evening News (climate segment starts at time 4:12)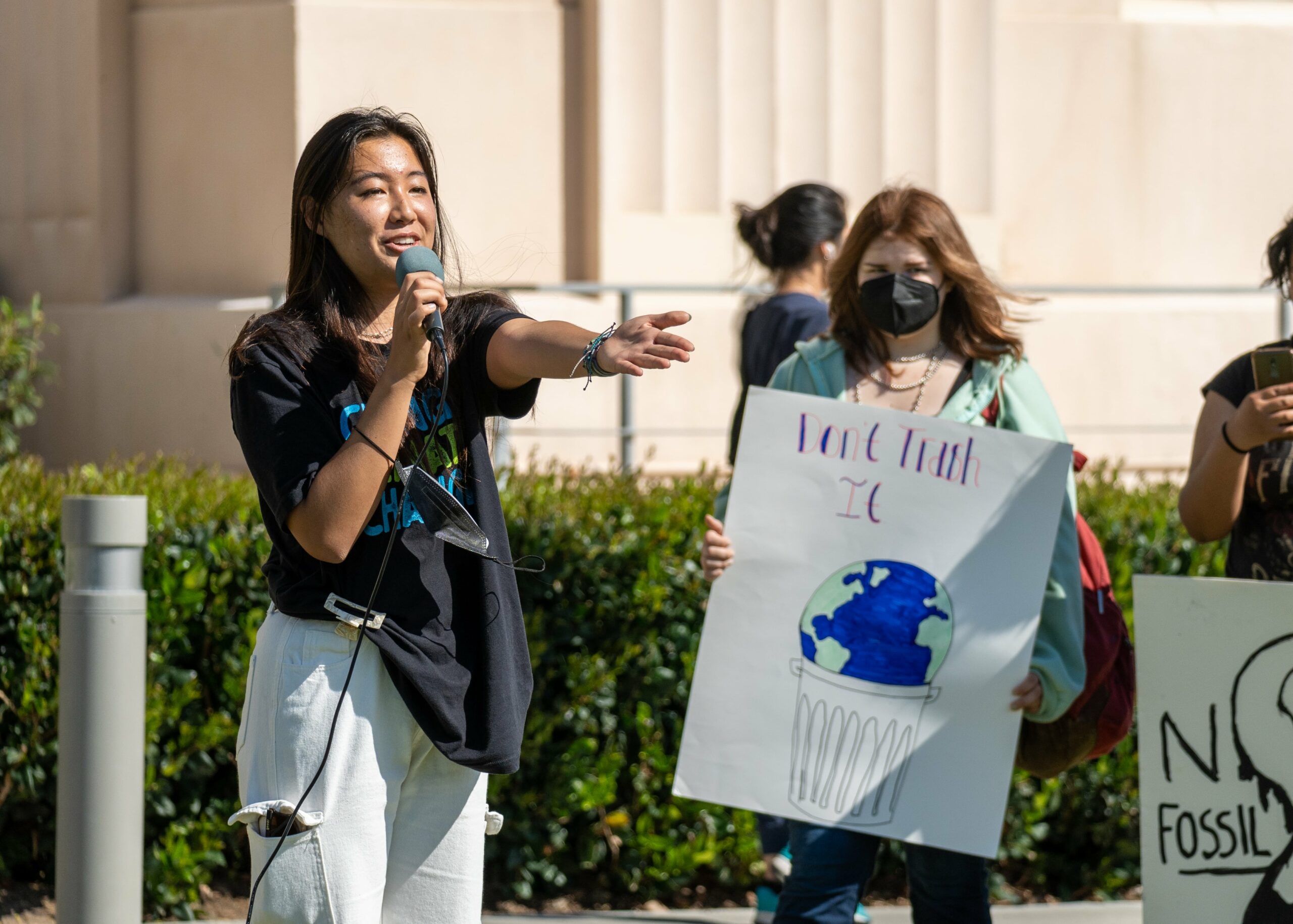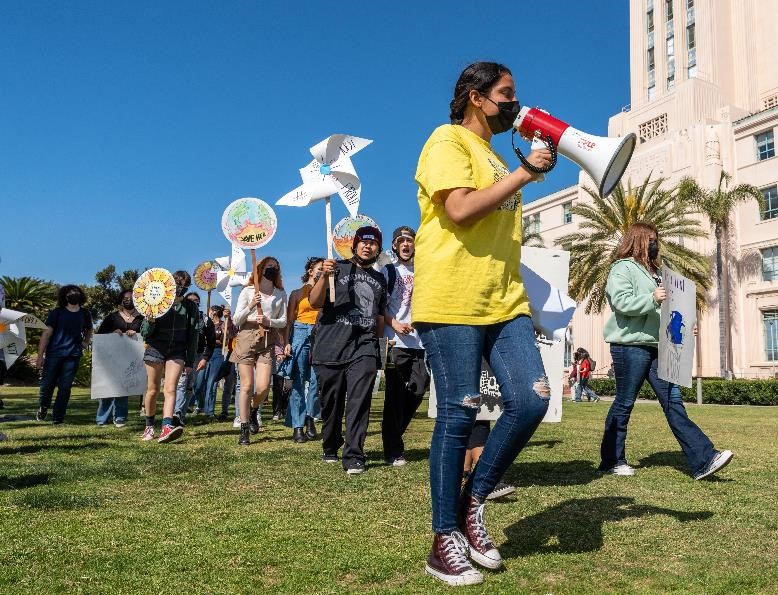 "It took me a long time to realize how effective one-on-one meetings are for increasing engagement and membership. Now I meet with people one-on-one and listen to their interests or answer their questions. This has allowed me to ask them to step into leadership roles based on their own interests."
Megan Phelps
MEA High School, San Diego
"Try different things, be open to new experiences, push yourself, and don't let fear of the unknown stop you. If you ever doubt you're capable, remember why you embarked on this journey in the first place."
Aisha Wallace-Palomares
Del Lago Academy, Escondido, CA Class of 2019
"Be consistent with meetings along with other club activities, as this is important for maintaining member attendance."
Aaron Masipik
Olympian High School, Chula Vista
"Don't try to do it all on your own! Working with others spreads your cause, helps you network, and makes things easier for yourself."
Annie Do
Serra High School, San Diego, CA Class of 2022
"Opt for collective action when asked on how to address the climate crisis. Organizing allows you to collectively reach more people and spread an inherent culture of individual action alongside it."
Chris Kracha Mission
Bay High School, San Diego, CA
"When taking individual action, strive for progress and not perfection. Whether you are beginning your eco-friendly journey with reusable produce bags or becoming vegetarian, you should be proud of your initiative. But don't be afraid to keep growing from there!"
Katelynn Sutton
High Tech High School, San Diego
"Stay on message! Resist pushback that seeks to distract from your passion and goals."
Elea Castiglione
San Diego High School, San Diego, CA
"To empower your team, go for inclusiveness. Everyone should be and can be a part of the movement. So appeal to all, not just certain groups of people. Whether they know nothing about the environment or everything under the sun, anyone can make a change."
Meisha Myers
Helix High School, La Mesa, CA
"Let go of the need to be perfect. There are a thousand little things you can criticize yourself for doing but it is unfair to put all the weight of the planet on yourself.~"
Emma Valenzuela
La Jolla High School, La Jolla, CA
"Reach out to your fellow activists, both youth and adults, who will support you and your vision. Tell them your vision and how their speaking it or supporting it connects. Consistent communication and visible dedication is key.~"
Leana Cortez
Rancho Buena Vista High School, Vista
Youth4Climate is a program of SanDiego350.


Support us and empower youth to take climate action!