Y4C's MISSION: Empowering youth to become climate leaders working together for an equitable, sustainable, and resilient future.

Discover Your Passion, Make it Your Power!
Y4C 2021 Summer Camp offers high school and college age youth an empowering opportunity:
Learn about climate science and climate justice and how you can get involved!
Find a community of people who care about these issues!
Together we can take powerful actions!
GOALS: This summer, you'll discover how to combine your personal skills, interests, and talents with climate action. Find your place in the climate movement. Explore the intersection of climate and social justice issues and envision a sustainable, resilient future.
ACTIVITIES: Interactive, hands-on activities, fun teamwork, and time for personal reflections provide concrete leadership skills you can use right away. You'll also gain tools to build your personal resilience and sustain your energy for the long run.
Help build a community and inspire others to take action!
Eco-Club Coalition:
Leaders in Action Workshop
Sat, Aug 28, 2:30-5 pm (PST)
Join the Youth4Climate's Eco-Club Coalition: Leaders in Action Workshop! (ECCLAW)
GOALS: You'll learn how to start or strengthen an Eco-Club with easy-to-use tools:
How to recruit new people
Inspire your members to take meaningful action
Gain tactics on utilizing media
Ideas for fun events
How to avoid burn-out
Combine your passion and purpose
And much more!
All High School and College students are welcome, regardless of experience! You do NOT need to be part of an Eco-Club–we'll give you tools you can use with any club.
ACTIVITIES: This workshop will feature expert speakers, hands-on exercises, fun social activities, community-building, and JEDI (Justice, Equity, Diversion & Inclusion) Training. Everyone is welcome regardless of age, background, location or financial situation. Check out the flyer and link to register today!
Create an Environmental Club
Want some ideas for starting an Eco Club?  Click here.
Here's an online handbook that guides you through steps and resources for developing your club.  Read DIY book
Want some help and support?  Join our Eco-Club Coalition!  Click here to fill out a form.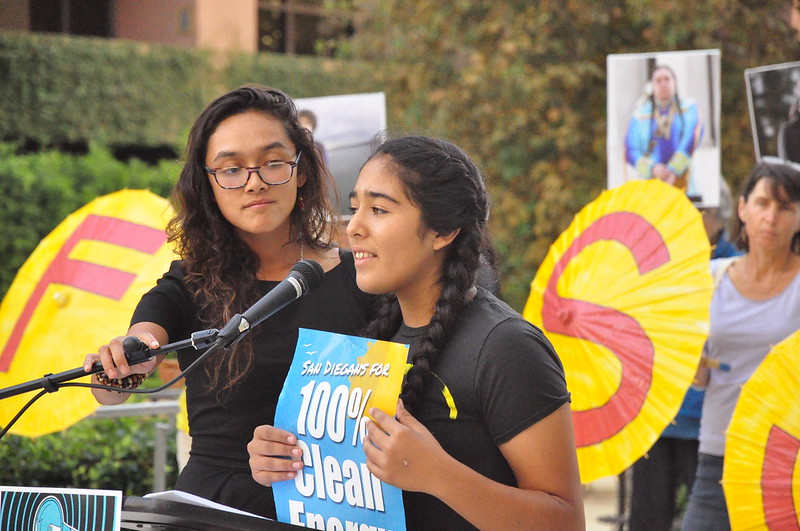 During the pandemic, all current programs, events and volunteer activities are being held online. Safety is our first priority.
"It took me a long time to realize how effective one-on-one meetings are for increasing engagement and membership. Now I meet with people one-on-one and listen to their interests or answer their questions. This has allowed me to ask them to step into leadership roles based on their own interests."
Megan Phelps
MEA High School, San Diego
"Try different things, be open to new experiences, push yourself, and don't let fear of the unknown stop you. If you ever doubt you're capable, remember why you embarked on this journey in the first place."
Aisha Wallace-Palomares
Del Lago Academy, Escondido, CA Class of 2019
"Be consistent with meetings along with other club activities, as this is important for maintaining member attendance."
Aaron Masipik
Olympian High School, Chula Vista
"Don't try to do it all on your own! Working with others spreads your cause, helps you network, and makes things easier for yourself."
Annie Do
Serra High School, San Diego, CA Class of 2022
"Opt for collective action when asked on how to address the climate crisis. Organizing allows you to collectively reach more people and spread an inherent culture of individual action alongside it."
Chris Kracha Mission
Bay High School, San Diego, CA
"When taking individual action, strive for progress and not perfection. Whether you are beginning your eco-friendly journey with reusable produce bags or becoming vegetarian, you should be proud of your initiative. But don't be afraid to keep growing from there!"
Katelynn Sutton
High Tech High School, San Diego
"Stay on message! Resist pushback that seeks to distract from your passion and goals."
Elea Castiglione
San Diego High School, San Diego, CA
"To empower your team, go for inclusiveness. Everyone should be and can be a part of the movement. So appeal to all, not just certain groups of people. Whether they know nothing about the environment or everything under the sun, anyone can make a change."
Meisha Myers
Helix High School, La Mesa, CA
"Let go of the need to be perfect. There are a thousand little things you can criticize yourself for doing but it is unfair to put all the weight of the planet on yourself.~"
Emma Valenzuela
La Jolla High School, La Jolla, CA
"Reach out to your fellow activists, both youth and adults, who will support you and your vision. Tell them your vision and how their speaking it or supporting it connects. Consistent communication and visible dedication is key.~"
Leana Cortez
Rancho Buena Vista High School, Vista
Youth4Climate is a program of SanDiego350.


Support us and empower youth to take climate action!