Start with your Kick-Off!
PUT YOUR CLUB ON THE MAP:
Typically, the kick-off introduces your club to your school at the beginning of the year or semester. Its main purpose is to build a BUZZ and help you recruit new members.
USE PLANNING TOOLS FOR ALL ACTIONS & EVENTS:
Regardless of where you are in the year, these event planning tools will help you organize all of your events.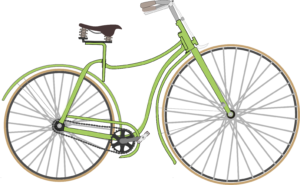 Activity #4A:
Plan Your Kick-Off
Main Goal:
Recruit new members and gain visibility for your club.
Two ways to introduce your club with a Kick-Off:
LIST Kick-Off Action & Event Ideas Here: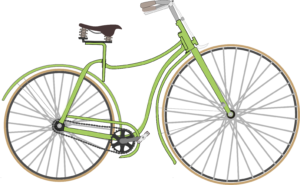 Activity #4B:
Event Planning 101
Pro Tip:
Plan up front to avoid scrambling to get things done at the end…
PART B: Make your idea a reality:
Grab People's Attention: Make a Splash!
Plan some DRAMA into your events. The more people you draw, the more interesting it becomes to a larger group.
Gain traction by planning in conjunction with a larger regional or even world-wide action, like the Climate Strikes.
Alert news media to the larger actions and events you're organizing. The more powerfully you represent your event, the more likely you are to get coverage. Start with your school, the neighborhood newspaper, and expand out to your community's main newspaper.
Describe your event and reasons you're organizing it.
What you hope to get out of it (be specific: you are demanding urgent action on the climate crisis, or)?
What exactly are you urging people to do?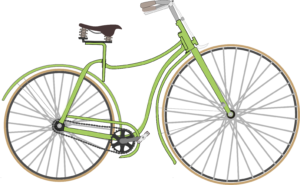 Activity #4C:
Event Planning Worksheet
1. Action/Event:
2. Event Chair:
3. Assemble a Team:
     Review and assign leadership roles (see next page).
4. Fill out the following chart on logistics:
5. Break it down into manageable steps:
Put steps into an Event Planning Timeline(see sample) and implement plan.
6. Hold event! Post about
7. Debrief:
At your next club meeting, review event. Acknowledge all the hard work and fun your club had!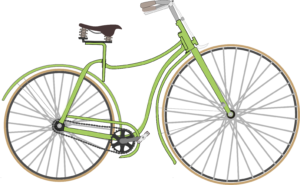 Activity #4D:
Event Planning Step-by-Step
Chairs:
Get together with your team and meet as a sub-committee to divide up the tasks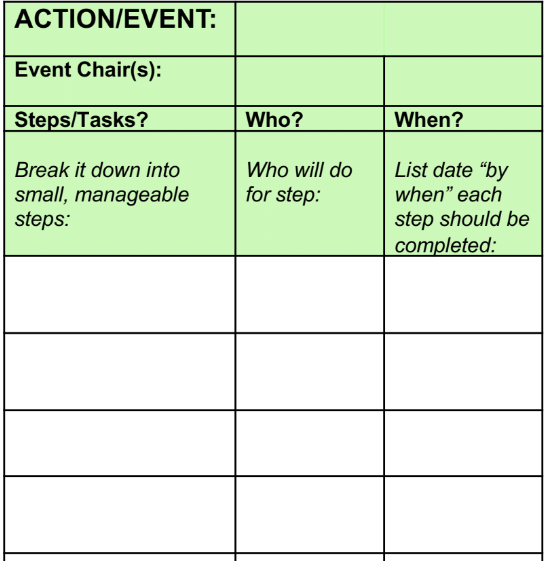 EVENT PLANNING LEADERSHIP ROLES
DESCRIPTION
Event Chair(s)
– Puts together team.
– Keeps things on track (uses team!).
– Creates event planning timeline, complete with checklists by day or week.
– Creates "Day of Event Schedule," outline of timing on the day of the event.
– With team, figures out logistics, materials, supplies needed during event
Volunteer Coordinator
– Determines specific roles for volunteers.
– Finds people to fill them.
Promotion Coordinator
– Plans and organizes how to bring more
people to the event.
Media Coordinator
– Contacts media for coverage at event.
– Prepares Press Release for event.
– Creates social media posts: info/photos
Graphic Designer
– Plans signs, colors, graphic designs to
promote event and at actual event.
Posters Maker
– Organizes sign-making parties: signs with clear messages for people to hold during the event (in conjunction with designer).
Music/Chant Coordinator
– Plans how event will sound, arranges for live or recorded entertainment.
A/V Tech Coordinator
– Coordinates sound system, speakers, mega-phones, other equipment
Admin Liaison
– Communicates and coordinates with school administration, as needed
Pro Tip:
Hold weekly team sub-committee meetings.
ROLES DURING EVENT
DESCRIPTION
Event Chair(s)
– Makes sure things run smoothly.
– Available to answer questions and troubleshoot issues.
Moderator
– Student MC to run the program and introduce speakers (and keep them on schedule).
Speakers
– Line them up ahead of time. Give them plenty of notice.
– Emphasize topic and content you'd like them to cover. Review
expectations for exactly their point of view.
– Be clear on amount of time they'll have.
– For youth speakers, make sure they've practiced their talk several times!
Greeters
– Signs people in, hand out materials, answer questions, welcomes, etc.
Setup/Breakdown
– Volunteers to set-up and clean-up after event.
A/V Techs
– Works with AV Coordinator to set-up, monitor, troubleshoot, and safeguard sound system, slide show, etc.
Music/Chant Coordinator
– Leads chants during event.
Social Media / Photography
– Documenting event at the time, share on social media.
Sample: Event Planning Timeline
EVENT/ACTION: Kick-Off 2020
DATE: February 17, 2020
EVENT CHAIRS
ACTION DESCRIPTION: Kick-Off Event: Documentary showing of the LORAX and vegan cupcake sale
Robin & Jacob
TIMELINE
LEAD PERSON FOR EACH TASK
January 15-31, 2020:
 
Put together sub-committee team (3-5 people)
Robin & Jacob
 Ask administrators for permission to hold
Bethany
 Select appropriate location and timing
Julia
February 1-16 2020:
 
Make list of volunteers needed for day of event. Find committed volunteers (tech to run movie, set-up team, clean-up, bakers, volunteers to sell baked goods, ticket-takers)
Robin
Make list of supplies needed
Julia
Who will introduce movie and run discussion afterwards? Include experts on a panel?
Robin & Jacob
Make: Day of Event Schedule
Jacob
Promote event: posters, flyers, art build
Bethany & Team
Confirm with Speakers (be clear with speakers and performers what your expectations are: carefully review with each what their main talking points will be and how much time they have)
Robin
Confirm with timing and tasks with volunteers
Jacob
February 17, 2020:
 
Day of Event: Follow schedule
Team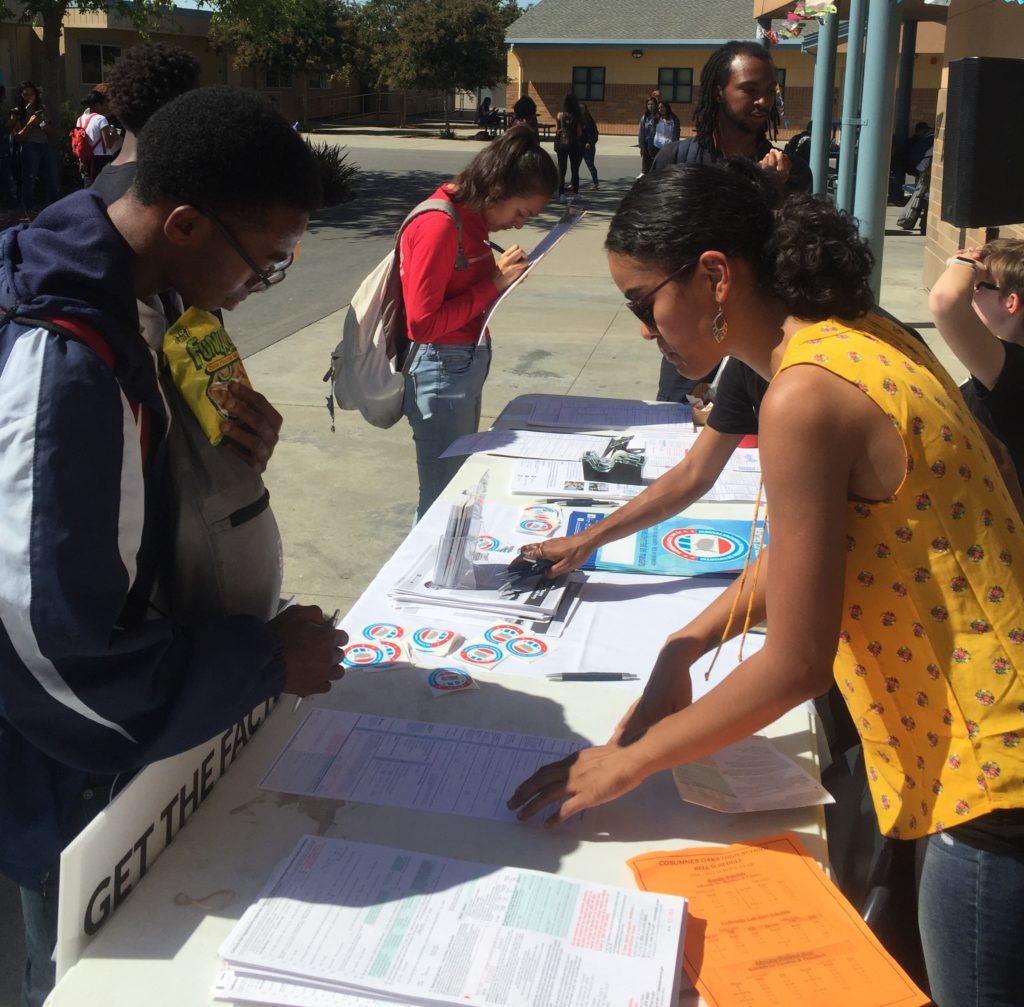 SAMPLE: Day of Event Schedule
EVENT: Kick-Off 2020
DATE: February 10, 2020
EVENT COORDINATORS:
Robin: 444-444-4444. Jacob : 222-222-2222
TIMELINE:
| | |
| --- | --- |
| 3PM | Bake Vegan Cupcakes |
| 5:30PM | Set-up in Auditorium (ticket table, cupcake table, tech runs through to ensure everything working, tables set up for panel) |
| 6:30PM | Door Open |
| 7PM | Start Movie |
| 8PM | Panel Discussion |
| 8:30PM | Wrap-up/Clean-up |
Meet: Annie Do
Serra High School, San Diego, CA Class of 2022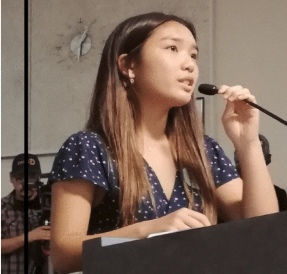 HOT TIP:
"Don't try to do it all on your own! Working with others spreads your cause, helps you network, and makes things easier for yourself."
"You don't have to be the biggest or most experienced person in the room to make things happen. Just start speaking up. If you're loud enough, people will listen."
Annie is a member of her high school club "Serra Students for Environmental Action." She organized her school's 2019 Climate Strike, with approx. 200 students attending.
Highlight: Annie's opinion piece on why students are walking out of school to demand climate action published in Union Tribune newspaper.