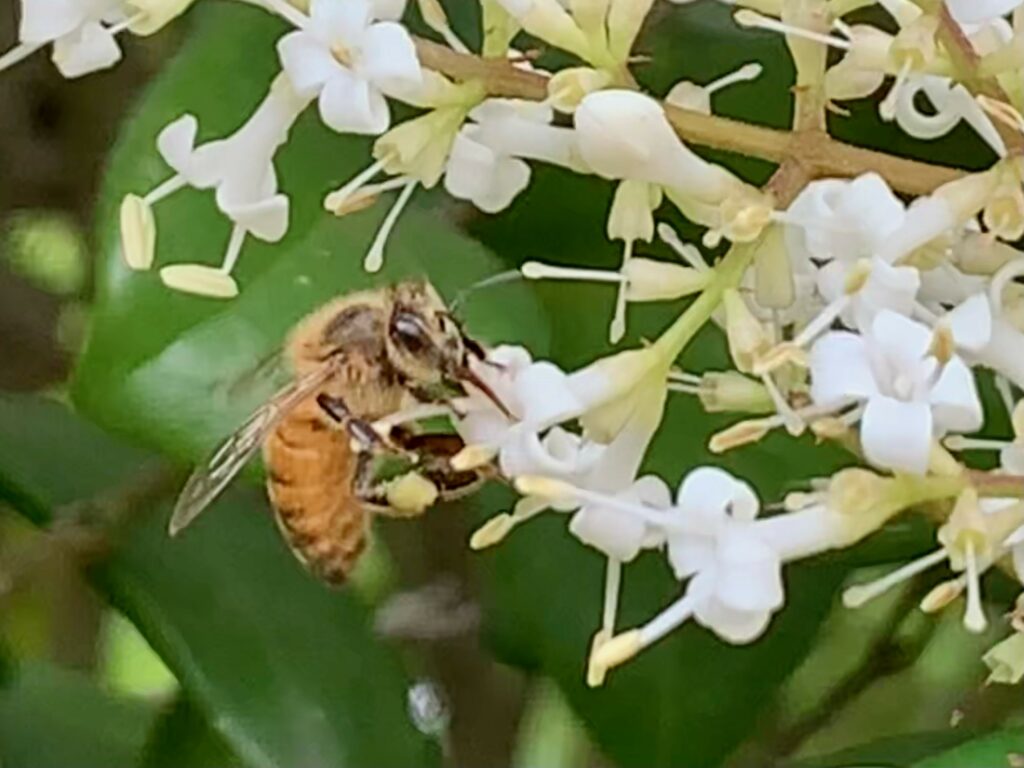 By Jennifer Phelps   
The global climate crisis is arguably one of the largest threats humanity has ever faced. Compounding issues such as pollution, species extinction, topsoil degradation, social inequities, habitat destruction, ocean acidification, and urban sprawl give us clear signals that our current "business as usual" model isn't working.  
The latest report from the Intergovernmental Panel on Climate Change (IPCC) clearly demonstrates that we have no time to waste in adopting new strategies to create a livable future. According to the IPCC, many expected climate impacts are becoming "increasingly irreversible." They strongly recommend limiting temperature rise to 1.5°C to "substantially reduce projected losses and damages related to climate change…" In addition, they caution that there is "a rapidly narrowing window of opportunity to enable climate resilient development."  
It's time to shift our thinking and create a climate-smart world, using sustainable, regenerative, and net positive strategies. These terms help define a new way of living, where we use natural processes to restore, renew, and revitalize resources, so that we generate and capture MORE than we use.
That's where the Sustainable Sites Initiative (SITES) comes into play. SITES offers "the most comprehensive system for creating sustainable and resilient land development projects." SITES, similar to the LEED rating system for buildings, defines a way for us to shift to a new way of thinking about land development, with quantitative assessments that help us design and build sustainable landscapes. SITES offers a new way to develop our land, helping us to create a thriving, climate-friendly future.
SITES FUNDAMENTAL PRINCIPAL: HEALTHY ECOSYSTEMS
"Any project…holds the potential to protect, improve, and regenerate the benefits and services provided by healthy ecosystems."
EXAMPLES OF SITES STRATEGIES YOU CAN USE START USING RIGHT NOW:
Push the boundary and showcase your commitment to sustainability!
Design a rain garden
Plant edible plants into your garden
Eliminate your lawn: go for native and/or drought tolerant plants
Create detention basins or cisterns to collect water
Ban pesticides, herbicides, and gas-powered blowers from your property
Reach for community engagement in design (or household engagement!)
Reuse salvaged materials and plants and look for regional options
Install a PV solar system (power your landscape and home from renewables)
Reduce parking as much as possible
Shade parking
Install permeable pavers
Consider boosting the health and well-being of user's experience with excellent wayfinding, indoor and outdoor connections
Tie in with your city CLIMATE ACTION PLAN (CAP) to support city goals
SITES GOALS:
Create Regenerative Systems and Foster Resiliency
Ensure Future Resource Supply and Mitigate Climate Change
Transform the Market through Design, Development, and Maintenance Practices
Enhance Human Well-Being and Strengthen Community
ECOSYSTEM SERVICES:
How do we design and build regenerative, sustainable projects? SITES provides a framework that capitalizes on ecosystem services: positive benefits the natural world provides to people. In fact, without ecosystem services, we would not be able to survive.
Tiny elements of nature have enormous impacts on the quality of our lives. Have you ever considered what life would be like without insects? Enjoying those strawberries this spring? What about a big, juicy peach in summer?  Diverse crop cultivation wouldn't be possible without bees and other pollinators.
Now think about a tree on your street. That single tree may offer a multitude of benefits: 
Shade

Cooling

Windbreak

Carbon Storage

Climate moderation through evapotranspiration

Wildlife Habitat

Food

Medicine

Soil Enrichment
INTENT: Healthy ecosystems equals healthy, happy people!
It's been reported that one teaspoon of soil contains more living organisms than there are people alive on the planet. We are totally reliant on healthy soil. Together with healthy vegetation, they purify water, manage run-off, and slow erosion.  Plants and soil create habitats for many types of animals and insects, which in turn help fertilize and pollinate food crops we need to survive.
It's not possible to place a dollar amount on the wide-range of benefits these natural systems provide. And while there's been a recent trend to replicate ecosystem services through technology, the technological fixes often cost much more and cannot achieve the same level of results. Natural systems have been refined over millennia. Why not take advantage of these simple, interconnected processes?
 The rigorous design of the SITES credits considers relationships and time-scales that far exceed typical development procedures of today. Looking at the connections between soil, vegetation, and organisms as they mature over time, SITES embraces and encourages networks between the natural systems.  Follow the SITES framework for a vibrant, thriving, sustainable future!
MILLENNIUM ECOSYSTEM ASSESSMENT:
In 2001, the United Nations gathered over 1360 scientists and other experts to create the "Millennium Ecosystem Assessment." They identified four broad categories of ecosystem services:
Supporting: Services necessary for production of all other ecosystem services. 
Provisioning: Natural products (such as food and water) obtained from ecosystems.
Regulating: Benefits from the regulation of ecosystem processes (ie., carbon sequestration).
Cultural: Benefits people obtain from ecosystems (non-material, such as: spiritual enrichment, reflection, cognitive development, recreation, aesthetic experiences).
SITES BASICS:
18 Prerequisites
48 Credits (all credits considered optional but minimum point requirements to achieve levels of certification)
200 Possible Points
Points available for innovative solutions and exemplary performance
Not all credits possible for every project, but unique applications for site-specific solutions encouraged
SITES GUIDING PRINCIPLES:
You can put the SITES principles to work for you to create a climate-smart world.
Do No Harm:  Make no changes that degrade the environment.
Apply the Precautionary Principle:  Be cautious with designs that could cause threats to human and environmental wellbeing.
Design with Nature and Culture:  Create and design projects that consider economic, environmental, and cultural conditions. Look to local, regional, and global contexts.
Use SITES Decision-Making Hierarchy: 1. Conserve 2. Manage 3. Restore 4. Generate
Provide Regenerative Systems as Intergenerational Equity:  Build sustainability into our environment for future generations to thrive with access to sufficient resources.
Support Living Processes:  Understand and value relationships in the ecosystem.
Use a Systems-Thinking Approach:  Continuously reevaluate assumptions and values, adapt as necessary.
Use a Collaborative and Ethical Approach:  Encourage direct and open communication, link to long-term sustainability with ethical responsibility.
Maintain Integrity in Leadership and Research:  Transparent, participatory, rigorous. Communicate findings clearly and timely.
Foster Environmental Stewardship:  Promote ethics of environmental stewardship, an understanding that responsible management of healthy ecosystems improves the quality of life for generations to come.
 SITES PROJECT CERTIFICATION:
The SITES certification process (for projects that are at least 2000 s.f.) provides guidelines with options to achieve credits across ten major categories outlined on the SITES scorecard.  There are 18 prerequisites that MUST be achieved and another 48 credits as options to be achieved. Sites offers four levels of certification (Certified, Silver, Gold, and Platinum), beginning certification with a minimum of 70 points. Embracing the bigger picture leads to better project outcomes: the SITES approach encourages innovative and site-specific design solutions to address the individual goals, opportunities, and obstacles unique to each project.
This rigorous performance evaluation focuses a project design on strategies that result in a much more regenerative site and may be applied to any type of project, from a large subdivision, university campus, public park down to even a single family home. Each project has the opportunity to incorporate resilient and regenerative strategies, capitalizing on benefits provided by a healthy ecosystem. The Sustainable SITES program provides a framework to create unique solutions specific to each project while helping to combat our biggest challenges.
RATING SYSTEM SUMMARY
Site Context
Pre-Design Assessment + Planning
Site Design – Water
Site Design – Soil + Vegetation
Site Design – Materials Selection
Site Design – Human Health + Well-Being
Construction
Operations + Maintenance
Education + Performance Monitoring
Innovative or Exemplary Performance
For more information, visit the SITES Rating System Certification Guide.
By Jennifer Phelps 
Jennifer Phelps, LEED AP BD+C and SITES AP, is a Registered Landscape Architect (CA Lic. #5951).  Jennifer champions sustainable design strategies in site planning and landscape architecture. By focusing her practice on environmental stewardship, she is committed to innovative and practical design solutions that emphasize the interconnection between natural and human systems. She currently consults on the process of achieving "NetPositive Design" outcomes, with the goal of creating a climate-smart future. Jennifer co-founded the San Diego chapter of the Urban Fabrick Sustainability Collaborative, an interdisciplinary group of professionals who share ideas and offer support to make sustainability practices wide-spread, across disciplines. She also volunteers with SanDiego350, as the adult team leader for the Youth4Climate Program, which empowers youth (ages 13-23) to become climate leaders.