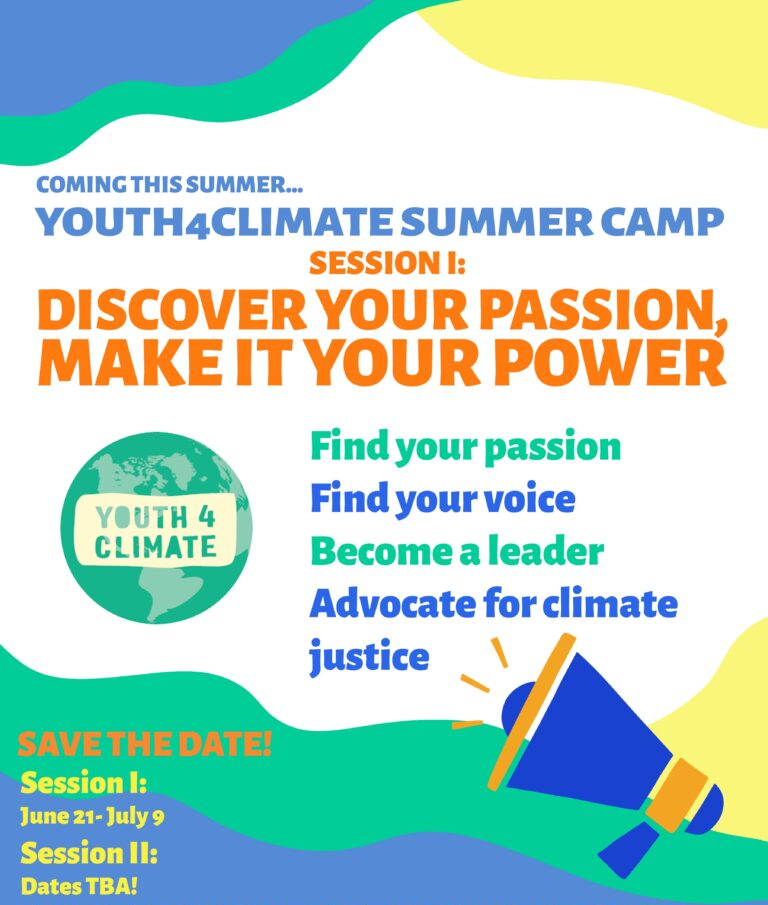 We are stronger together! Share this event with your friends, peers, social media, and your eco-club using our promotional toolkit!
Register by June 14th to be entered into our giveaway.  (More info below.)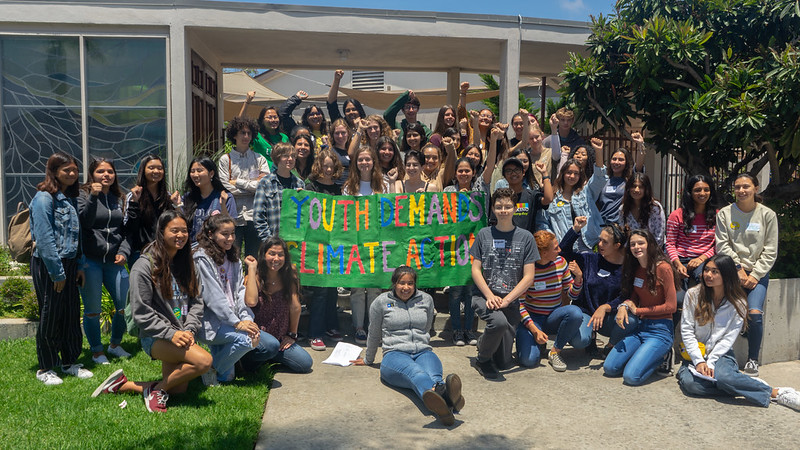 Are you ready to take action for a sustainable future? Join us for our Youth4Climate: Leaders in Action Summer Camp for Youth ages 13-23!* From policy to equity to ocean science to careers in a new green economy, we have a spot for you! Register for Session 1 by June 14th (and attend the camp) to be entered into our raffle!**
Session: June 21 – July 9: Discover Your Passion, Make it Your Power! 
Through our dynamic, interactive three-week program, you'll discover:
Ways to integrate social and climate justice
Effective ways to take meaningful action
Community-building skills and activities
How to advocate for policy and affect deep change
Personal resilience skills to avoid burn-out and anxiety
We cannot wait to meet you!
Questions? Email Megan, the Youth4Climate Intern, at megan@youth4climate350.org.
*Interested adults welcome to register–please know that this is a youth space, thus adults will be requested to participate as observers only.
**Giveaways will be awarded during Week 3. Must be present to win.
WEEK 1:  Discover Your Passion
Review climate science basics, intersectionality of other issues, climate justice, and how you fit in by exploring your passions, your strengths, and your purpose.
WEEK 2: Grow Your Passion & Envision a Sustainable Future
Know that YOU can make a meaningful impact! Learn how to be a positive force for change. Join a team with others who share your passions and develop a strategic plan to put your passions into action. We'll also dive into some fun ways to envision a better future!
WEEK 3: Make It Your Power
Now you'll get to see what meaningful action looks like! With mentors guiding you each step of the way, you and your team will create a powerful action to inspire others to join you. We'll also look into career pathways, incorporating your passion into your life's work. In addition, we'll empower you to find your voice!
Over the course of each week, you'll spend 4-6 hours:
Connecting with other passionate youth 

Watching inspiring video content 

Getting grounded with emotional resilience exercises 

Putting your passion into purpose-driven projects through art, music, science, videography, social media, or other activities of your choice

Developing action projects with a team to inspire change in the specific areas that matter most to YOU!
| Day | Time | Activity |
| --- | --- | --- |
| Mondays | 4-5pm | Weekly orientation and team building |
| Tuesdays | 4-5pm | Watch party and discussion |
| Wednesdays | ~ | no scheduled call |
| Thursdays | 4-5:30pm | Live call with guest speakers, resilience exercises, and connective activities! |
| Fridays | 4-5pm | Optional social activities, either outdoors or virtually. |