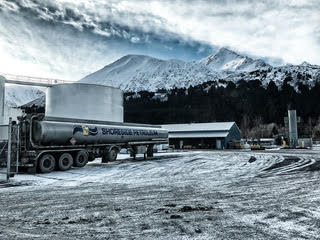 By: Isabel White
The Biden administration's groundbreaking decision to approve the Willow Project on March 13th of this year has been met with an outpouring of objections from seasoned climate activists and the general public alike—here's what we know so far.
What is the Willow Project?
The Willow Project is, put simply, a massive oil drilling project by Houston based drilling company ConocoPhillips on Alaska's North Slope in the National Petroleum Reserve. This is the largest drilling project approved to date on federal land, considering the area is projected to hold about 600 million barrels of oil. Plans as of now include 250 wells, 37 miles of road, 389 miles of pipeline, airstrips, and a central processing facility.
What is the Biden Administration's role?
Although the Biden administration did reduce the five drill pads desired by ConocoPhillips down to 3, this still means the company will be able to obtain around 90% of the oil they originally hoped to drill. According to the White House, the oil company's request for more oil drilling sites had to be approved due to existing leases in the same area (although these drill sites are much smaller than Willow is projected to be). Approval of this project by Biden directly contradicts one of his key campaign promises, which was to work towards reducing the United States' contribution to climate change by cutting greenhouse gas emissions in half by 2030 and reaching net-zero gas emissions by 2050.
What are its effects?
State lawmakers and a union of Alaskan Native groups on the North Slope ,the site of the project, support Biden's approval of the project due to the jobs and revenue it could bring to the state. That being said, many other Alaska Natives living closer to the site of the project, along with millions of climate activists worldwide, oppose this project for many reasons:
Health Effects – Nuiqsut village leaders who reside close to the project site fear the health effects attributed to oil drilling. These include premature birth, heart disease, and asthma.
Furthers Climate Change – The Willow Project will likely add upwards of 250 million metric tons of carbon dioxide to our atmosphere in 30 years, which is equivalent to what 56 million vehicles emit in a year. According to the University of Manchester's Tyndall Center for Climate Change, we will be unable to avert ruinous levels of global heating with any new fossil fuel production, let alone something of this level.
Habitat Degradation – Continued global heating would further aggravate melting of the ice caps, as well as destroy the habitat of many organisms who depend on both the ice caps in general and the land slotted to be paved or drilled. For example, it expands into previously undisturbed Teshekpuk Lake, which caribou (and numerous other populations) are dependent on.
How can we take action against it?
While the situation may seem dire, all hope is certainly not lost. The Willow Project's construction must begin in winter due to the fact that ice roads are required to build the hundreds of feet of pipeline that are needed to access the site. This has not occurred yet as a result of impending legal conflict between ConocoPhillips and environmental justice organizations such as Earthjustice. Since Alaska's winter ends in April, delaying construction with lawsuits until then could delay the project until next winter, giving activists and policy makers enough time to reverse or decrease the project and its effects.
In the fight against fracking, every voice counts, and we can win this fight if we fight it together. Here are some ways you, as an individual, can get involved and take action to stop the Willow Project or support the fight to reverse climate change:
Write the White House a letter (Address: 1600 Pennsylvania Avenue, N.W. Washington, DC 20500) or call them (Comments Line: 202-456-1111)
Contact your local representatives and urge them to take the fight against oil drilling seriously (you can use this link if you're not sure who your representatives are)
Sign the change.org petition (currently at around 4 million signatures)
Research local or international environmental grassroots organizations to support with publicity (word of mouth is extremely powerful!), donations, or volunteering. Click here or here for some good lists.
References
Alikpala, G. (2023, March 16). What can you do to stop the controversial willow project? Diario AS. Retrieved March 16, 2023, from https://en.as.com/latest_news/what-can-you-do-to-stop-the-controversial-willow-project-n/
Daly, M. (2022, July 16). Biden promises to take action on climate change despite setbacks. PBS. Retrieved March 16, 2023, from https://www.pbs.org/newshour/nation/biden-plans-to-use-executive-action-to-combat-climate-action-despite-setbacks
Nilsen, E. (2023, March 14). The willow project has been approved. Here's what to know about the controversial oil-drilling venture. CNN. Retrieved March 16, 2023, from https://www.cnn.com/2023/03/14/politics/willow-project-oil-alaska-explained-climate/index.html
Torent Tucker, D. (2021, October 12). Living near oil and gas wells increases air pollution exposure, according to Stanford Research. Stanford News Service. Retrieved March 16, 2023, from https://news.stanford.edu/press-releases/2021/10/12/living-near-oil-llution-exposure/
What is the willow project? ConocoPhillips' disastrous plan to drill in the Western Arctic. Evergreen Action. (2022, June 15). Retrieved March 16, 2023, from https://www.evergreenaction.com/blog/what-is-the-willow-project-conocophillips-disastrous-plan-to-drill-in-the-western-arctic
The willow project. Protect Our Winters. (2023, February 22). Retrieved March 16, 2023, from