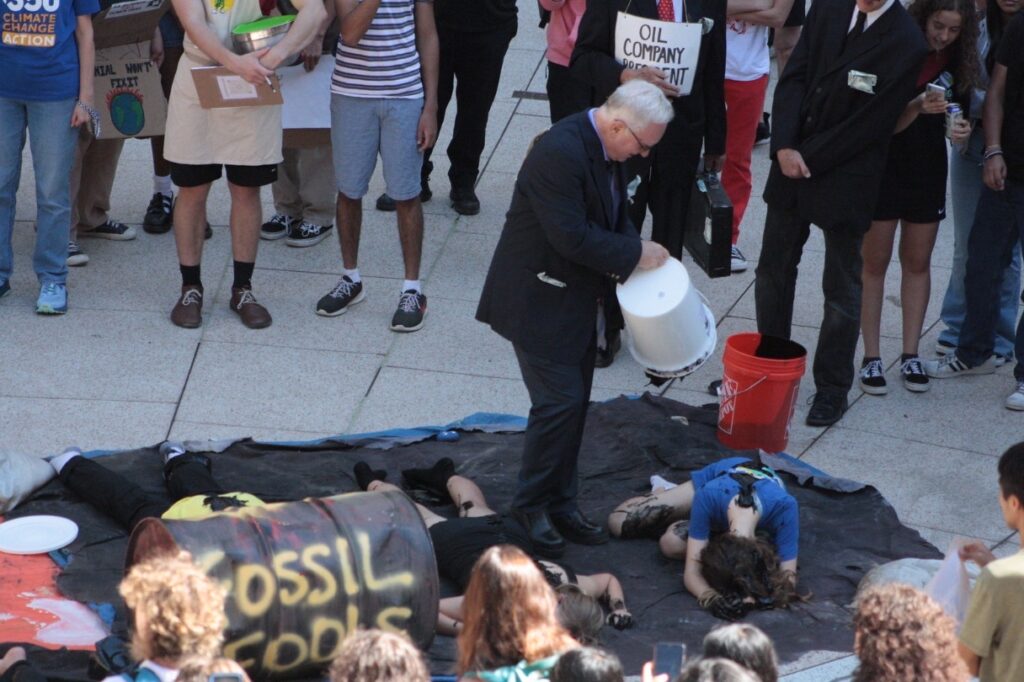 By:Theo Martien
September's Global Climate Strikes: a show of power, a culmination of passion, a display of dread. Since 2019, Youth4Climate, a SanDiego350 group fighting for climate justice, has facilitated San Diego's September school walkouts. In this time, our team has grown in numbers and desperation. The climate crisis is no longer a future threat; it is happening now. When planning the 2022 strikes, we reflected on the legacy of prior strikes. Will history books thank us for pushing lawmakers forward, or wish we had fought harder?
The latter isn't an option. This is the time to fight with everything we have. With this in mind, we determined the 2022 September 23rd school strikes' three demands: (1) President Biden declares a climate emergency, unlocking his executive powers to take crucial climate action; (2) Gov. Newsom stops signing new fracking and oil drilling permits; (3) We swiftly and justly transition to renewable energy. To further emphasize the urgency of this crisis, we planned a blunt, grim demonstration. Six of us lined up on our knees, heads down, hands behind our backs: ready for execution. Behind us stood men in suits, pockets overflowing with cash, buckets full of "oil." They began mercilessly dousing us with the black sludge. The crows booed as we collapsed under the toxic rain. The Big Oil representatives continued pouring over our dead bodies, apathetic to the collateral of their profit.
This demonstration represented the radical actions and goals of its "victims." Most of us were members of Youth vs. Oil, a Youth4Climate campaign fighting to end oil drilling in California. We wrote a resolution demanding Gov. Newsom stops signing new fracking and oil well permits, drop existing permits, and roll out 3,200-foot setbacks. The resolution was passed by the San Diego Unified School District in early 2021. It has since worked its way up and was passed by the San Diego City Council in April of 2022. In late August, our campaign joined others in advocating for SB 1137, a bill that fulfills our demand for 3,200-foot setbacks. Today, we are working with San Diego's County Board of Supervisors to pass the Youth vs. Oil resolution.
Youth vs. Oil is but one example of youth climate activism having a serious impact. Across the globe, teenagers are protesting, suing their governments, and influencing policy. Youth voices are at the forefront of the climate discussion. We are qualified and passionate: you cannot justify dismissing us. Still, some question our position in the movement. They wonder why kids, who "should be in school," show such fervor for this "adult issue." In response, we ask that they reflect inward.
My generation cannot ignore the climate crisis. It is laced into our perceptions of the world like poison, eroding our spirits. The apocalypse has stared us in the face since day one and we've watched as adults simply stare back. Alarmed by their irresponsibility, we've taken responsibility ourselves. This manifested the youth climate movement, the 3,000 San Diego students who striked on Sept. 23rd, the young begging you to listen.
But this activism doesn't end with climate change. As we fight for our futures, we see the flaws of the present: from racism to mass shootings to the Supreme Court to wealth inequality, our society is in shambles. With the omnipresent nature of social media, teenagers cannot ignore turmoil like our predecessors did. While fighting the climate crisis, we've accrued the knowledge, we've mastered the system, and we've seen what our passion can accomplish. These skills can then be transferred to other movements. These circumstances led to the so-called "politically active Gen Z."
Youth4Climate volunteers are a splendid example of this pipeline. Many of us were 14 or 15 when we joined this group. Members have since spread to other movements, creating a diverse portfolio of activists. We have volunteers who've protested gun violence, fought for reproductive rights, and advocated for equity and diversity in schools. Teenagers who entered Youth4Climate as "inexperienced activists" are now making a serious impact on a multitude of issues.
It's becoming impossible to deny the power of "naive teenagers": we're informed, we're passionate, and we're ready to get to work. If you continue to listen to us, we will continue to make a difference. The climate crisis is a root cause of this phenomenon. The lesson is simple: if you teach passionate teenagers how to fight the system, they will attack it from every angle.